Подача статей





Deryabin D.G., Fot N.P.
UNIVERSAL COMPUTER PROGRAMME OF STAPHYLOCOCCUS SPECIFIC IDENTIFICATION FOR EFFECTIVENESS COMPARISON OF TEST-SYSTEMS "STAPHYTEST-8" AND "STAPHYTEST-16" (LACHEMA)
The article shows the usage of the universal computer oprogramme of staphylococcus specific identification as an instrument for the investigation of diagnostic effectiveness of commercial identification test-systems "Staphytest-8" and "Staphytest-16" (Lachema, Czech). Low effectiveness of "Staphytest-8" panel as well as relative growth of "Staphytest-16" identification parameters are defined. The article describes also the reasons of current diagnostic errors. On the basis of informative analysis of various identification tests the possible perspectives for further improvement of these and similar diagnostic test-system are given in the article.
About this article
Authors:

Deryabin D.G., Fot N.P.



Year:

2003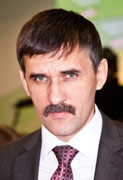 Editor-in-chief
Sergey Aleksandrovich
MIROSHNIKOV