Подача статей





Prilepina A.V., Morkovina E.F., Shukhman A.E.
METHODS FOR DEVELOPMENT OF EDUCATIONAL PROGRAM CONTENT FOR IT INDUSTRY
The modernization of professional education leads to the problems of inconsistency of professional training programs at various levels, the mismatch between the skill level of graduates and needs of regional labor markets. The development of the content of educational programs for IT industry are often performed without regarding to the requirements of employers, the demand for certain competencies, the opportunities to continue education at a higher level. To solve the problem of correlation between graduate skills and professional competencies we analyzed IT professional qualifications, as well as professional standards. Model of educational content is based on a system of professional competencies. Various optimization methods are offered for selecting a subset of competencies that are optimal according to certain criteria and satisfy the given constraints. As a result, the classification of the content of all the developed competencies on four levels allows to set the appropriate levels of competencies for skill levels of specialties in IT industry. The developed methods have been successfully tested in the development of the content of training program "Software and administration of information systems" for the profession "Programmer". Testing methods showed the possibility of its widespread use for the development of training programs for the different professions of IT industry.
Key words:
competencies, professional standard, educational program, curriculum, optimization of educational program content, programmer.
References:
1. Belonovskaya I.D., Shukhman A.E., Morkovina E.F. The specifics of the development of generic competencies for professional training of innovative industries // Vysshee obrazovanie segodnya–2012.–N 9.— P. 33-38.
2. Shukhman A.E., Belonovskaya I.D., Tsvetkova K.E. Model of continuous multilevel training of specialists for innovative industries.// Vestnik Orenburgskogo gosudarstvennogo universiteta. — 2011. — N 2 (121). — P. 390-395.
3. Shukhman A.E. Approaches to modeling, design and implementation of educational programs of continuous training of IT specialists.// Sovremennye problem nauki I obrazovaniya. — 2015.–N 3. — P. 522.
4. Professional standards for IT industry. — 2014 — URL: http://www.apkit.ru/committees/education/meetings/standarts.php.
5. Ministry of Labor and Social Protection of the Russian Federation of April 12, 2013 №148n "On Approval of the levels of qualifications in order to develop projects of professional standards" URL: http://www.rosmintrud.ru/docs/mintrud/orders/48.
About this article
Authors:

Shuhman A.E., Prilepina A.V., Morkovina E.F.



Year:

2016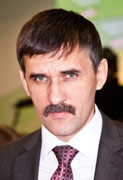 Editor-in-chief
Sergey Aleksandrovich
MIROSHNIKOV