Подача статей





Porol O.A.
THE POETIC CONCEPT OF LIFE IN THE BIBLE DISCOURSE OF YU. BALTRUSHAYTIS
In the modern literary criticism interest in Yu. Baltrushaytis's poetry, his personality noticeably grew, on the other hand it is possible to mark a lack of the operations devoted to his art attitude. In article the concept of life in a bible discourse of Yu. Baltrushaytis is considered. The bible aspect in the analysis of the artistic text allows to open the dominating life signs defining semantic space of the poetic concept of the author. Functioning of the bible text in the art world of Yu. Baltrushaytis is analyzed through spatio-temporal symbolics. The analysis of poetic works is carried out in semantic aspect using a method of text parallels. The given semantic parallels (motive of germination of a seed, prayful glorification, pleasure of life, vision "great in small", etc.) show a stylistic originality of lyrics of the poet, open the new semantic relations, designating genesis of bible characters, characteristic for Baltrushaytis's poetry, — a garden and day. As a result of research the dominating valuable installation of attitude of the lyrical hero — a completeness and pleasure of life is defined. The revealed semantic fullness of life is provided as the main. Reviewing of different options of a lexical background of life allowed to define its structure consisting of a triad: light — pleasure — the word. The space filled with light, this space won from emptiness, appearing as a result of overcoming of planar perception of the world, climbing to the prayful Word. Research of poetic texts of Yu. Baltrushaytis allowed to reveal the following lines of the concept of life: presence of bible symbolics (garden, day); perception of death as beginnings of day of new life; realization of omnipresence of God; existence celestial in the earth; life representation as limit completeness of life, pleasure and light.
Key words:
space, time, semantics, bible text, light, life.
References:
1. Ajhenval'd, Ju. Silujety russkih pisatelej [Silhouettes of the Russian writers].V 2 t. T. 2. — M.: Terra — Knizhnyj klub; Respublika, 1998 — 288 s.
2. Baltrushajtis, Ju. Derevo v ogne: Stihi [Tree on fire: Poems]. / Sost. i primech. Ju. Tumjalisa; Vstup. st. A. Turkova. — Izd. 2-e. — Vil'njus: Vaga, 1983. — 319 s.
3. Baltrushajtis, Ju. Stupeni i tropa [Steps and track]. — M.: Baltrus, Novoe izdatel'stvo, 2005. — 174 s.
4. Biblija [Bible]. — M., 1992. — 895 s.
5. Ivanov, Vjach. I. Sobranie sochinenij [Collected works]. T. 1. — Brjussel', 1979. — 872 s.
6. Gardzonio, S. Stihotvorenie Ju. Baltrushajtisa "Privet Italii" [The poem "Hi Italy" by Yu. Baltrushaytis]. // Lit. obozrenie. — 1999. — №4. — S. 59-62.
7. Daujotite-Pakjarene, V. Metafizika pojezii Jurgisa Baltrushajtisa [Metaphysics of poetry of Yurgis Baltrushaytis//Yurgis Baltrushaytis. Steps and track]. // Jurgis Baltrushajtis. Stupeni i tropa. — M.: Baltrus, Novoe izdatel'stvo, 2005. — S. 103 — 125.
8. D'jachenko, G. Polnyj cerkovno-slavjanskij slovar' [Unabridged Church Slavonic dictionary]. — Reprintnoe izdanie / G. D'jachenko. — M.: Otchij dom, 2001. — 1120 s.
9. Kotrelev N.V. Pis'ma Jurgisa Baltrushajtisa k Dzhovanni Papini [Yurgis Baltrushaytis's letters to Giovanni Papini]. // Inostrannaja literatura. — 2015. — №3. — S. 265-273.
10. Kubiljus, V. Na peresechenii nacional'nyh kul'tur [On crossing of national cultures]. // Voprosy literatury — 1975. — №1. — S. 251-258.
11. Lotman Ju.M. O pojetah i pojezii [About poets and poetry]. — S.-Peterburg: "Iskusstvo — SPB", 2001. — 848 s.
12. Polonskij G.Ja. Na molitvu: Pojezija Jurgisa Baltrushajtisa [For a prayer: Yurgis Baltrushaytis's poetry]. // Zaprosy zhizni. — 1912. — №41 (12 okt.).
13. Salinka V. Pis'ma V. Pis'ma Ju. Baltrushajtisa k Gor'komu [Yu. Baltrushaytis's letters to Gorky]. // Voprosy literatury — 1968. — №7. — S. 251-252.
14. Sproge L.V. Jurgis Baltrushajtis: ot "knigi stihov" k "dilogii" [Yurgis Baltrushaytis: from "the book of verses" to "dilogy"]. // Serebrjanyj vek russkoj literatury: Problemy, dokumenty. — M.: Izd-vo Mosk. un-ta, 1996. — S.24-32.
15. Tompakova O.M. Oni pisali Skrjabinu…[They wrote Scriabin…]. // Muzykal'naja akademija — 2005. — №4. — S. 165 — 169.
About this article
Author:

Porol O.A.



Year:

2015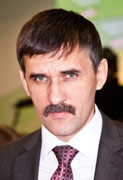 Editor-in-chief
Sergey Aleksandrovich
MIROSHNIKOV