Подача статей





Gamm T.A., Gamm A.A.
STUDY OF GROWTH AND DEVELOPMENT OF PLANTS IN SOIL RECLAMATION CONTAMINATED WITH SEWAGE
In connection with the formation of a large number of oil-contaminated waste in the oil and gas facilities it is urgent to develop faster and more cost-effective methods of cleaning soil from oil. Soils contaminated with varying concentrations of oil-Sladkovsko Zarechensky deposits washed sewage baths, laundries and consistent domestic waste waters, as well as adding a solution of sunflower husk. The lowest concentration of oil (1390–1450 mg/kg soil) prepared on the variants with the highest concentrations of oil in the soil.
Key words:
reclamation, contaminated soils, domestic waste water, waste water baths and laundries, liquor sunflower husks, chicken manure, bioindication.
References:
1. Anderson, R. K. The study of factors affecting the biodegradation of oil in the soil / RK Anderson, LA Propaduschaya // Corrosion and protection in the oil and gas promyshlennosti.− Moscow, 1979.− №3.− S. 30 -32.
2. Glazovskaya, MA General Soil Science and Soil Geography / MA Glazovskaya. − Moscow: Executive. HQ., 1981. − 400 p.
3. Kireeva NA Phytotoxicityanthropogenically contaminated soils / NA Kireev [et al].− Ufa: Guillem, 2003.− 231 p.
4. Kolesnichenko AV process of biodegradation in contaminated soils / A. Kolesnichenko [et al.].− Moscow: "Promekobezopasnost", 2004. − 194 p.
5. Loginov, O. Biotechnological methods of cleaning the environment from anthropogenic pollution / OM Login [et al.].− Ufa State. ed. scientific and tech. Literature "Reagent", 2000. − 100 p.
6. Orlov, DS Ecology and protection of the biosphere by chemical pollution / DS Orlov, LK Sadovnikov, I. Lozanovskii.− Moscow: Higher School, 2002. − 334 p.
7. Recommendations for remediation of contaminated lands / SA Aliev [et al.].− Baku: Elm, 1981.− 26 p.
About this article
Authors:

Gamm T.A., Gamm A.A.



Year:

2015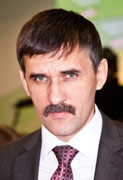 Editor-in-chief
Sergey Aleksandrovich
MIROSHNIKOV