Подача статей





Makarova T.A, Makarov P.N., Revutskaya N.P., Maximenko Y.P.
INFECTIOUS DISEASES OF PLANTS FAMILY SALICACEAE IN THE KHANTY-MANSIYSK AUTONOMOUS OKRUG — YUGRA
Evaluated phytopathological state of the plant family Salicaceae in the Khanty-Mansiysk Autonomous Okrug — Yugra. We have established the basic types of plant diseases, extent and intensity of the lesions various willows in phytocenoses district and were identified infectious agents. Guidance has also been on the development of plants with the plant resistance to infectious diseases.
Key words:
family Salicaceae, phytopathogen, exciter, disease, resistance, planting, phytocenoses, measures to combat infectious diseases of plants.
References:
1. Krasnoborov I.M. Plant identificator of the Khanty-Mansiysk Autonomous Okrug / I.M. Krasnoborov, D.N. Shaulo, M.N. Lomonosov.  — Novosibirsk, Ekaterinburg: Publishing house "Basco", 2006.  — 304 p.
2. Golovin P.N. Workshop on general plant pathology / P.N. Golovin, M.V. Arsenneva, A.T. Tropova, Z.I. Shestiperova.  — St. Petersburg: Lan, 2002.  — 288 p.
3. Sokolova E.S. Infectious disease of leaves woody plants / E.S. Sokolova, T.V. Galaseva.  — Moscow: GOU VPO MSFU, 2005.  — 42 p.
4. Chumakov A.E. Basic methods of phytopathologic researches / A.E. Chumakov, I.I. Minkevich, Y.I. Vlasov, E.A. Gavrilova.  — Moscow: Kolos, 1974.  — 191 p.
5. Kukurichkin G.M. Woody plants in landscaping of the Surgut city / G.M. Kukurichkin // Biological Resources and Environment.  — Surgut: Defis, 2006.  — P. 206-216.
6. Makarova T.A. Phytosanitary condition of plants of the genus Salix of plantations in the Surgut city / T.A. Makarova, P.N. Makarov, L.V. Alekhina, N.P. Revutskaya // The natural sciences.  — 2009.  — №4.  — S. 25-30.
About this article
Authors:

Makarova T.A., Maksimenko Yu.P., Makarov P.N., Revutskaya N.P.



Year:

2015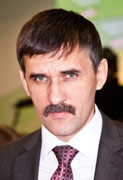 Editor-in-chief
Sergey Aleksandrovich
MIROSHNIKOV