Подача статей





Ilyasheva H.V.
MANAGERIAL ASPECT IN THE TRAINING OF FUTURE DESIGNERS OF GARMENTS TO PROJECT ACTIVITIES
Studied management aspect in the preparation of future designers seamstresses-tion products to project activities. The article reflects the principles of consistency, system approach, system analysis, which has its own specifics, which is manifested above all in the running functions. Managerial aspect in the preparation of future designers of garments to project activities, along with teachers, students and consumers of the project, provides even distribution of labour and responsibility, the process of communication and in our opinion necessary scientific approach to management. The article management, communication and self-esteem in the preparation of future designers of garments to the project activity appears as a kind of operado received a system with the purpose, structure, factors and conditions of the running of the. Management and communication is viewed as interaction between the teacher and the student; the interaction of students among themselves in the implementation of the research project, highlighting how the student's head designer, responsible for the artistic part of the project and the student designer-contractor's technical-th project; interaction with the consumer of the project. The results of successful management, communication and self-government are presented thesis projects, feedback from supervisors, feedback leaders practices and consumers of sewing projects for new products, which increases self-esteem and motivation for further professional activity.
Key words:
system, system analysis, management, communication, samoocenka.
References:
1. Avanesov, V.S. Methodological and theoretical basis of the test of pedagogical control: Dis ...d-RA PED.Sciences. — M.: 1994.
2. Bystray E.B. Formation of skills of pedagogical communication. Author. Diss.... Cand. PED. Sciences. — Chelyabinsk, 1992.
3. Grechnev V. S. the Culture of pedagogical communication. — M.: Education, 1990.
4. Demchuk O. N. Pedagogical conditions of the relationship "General didactics and methods of teaching technology and entrepreneurship" in the preparation of technology teachers ' pedagogical universities: Thesis...candidate.PED.Sciences. — Chelyabinsk, 1998.
5. Goranov M. E., Turanov I. M., Burr, V. I., Loescher O. V. Pedagogy education and development of student's personality. — Magnitogorsk; Chelyabinsk: MGPI; CSU, 1996.
6. Burr V. I. Professional orientation of the personality and pedagogy of its formation: a Monograph. Magnitogorsk: The Magician, 2003.
7. Ilyashev E. V. Management approach to formation evaluation activities of the individual student. // Quality management of education: the challenges of lifelong education: Collection of scientific articles of the V international scientific-practical conference. — Ekaterinburg: GOU VPO "Ural state pedagogical University", 2006.
8. Konarzewski Yu. What you need to know the Director of the school of systems and systemic approach. — Chelyabinsk: chgpi, 1986.
9. Stains V. A. Management of the pedagogical process in the modern school. — M.: Education, 1986.
10. Sadovsky, V. N. Fundamentals of General systems theory. Logical-methodological analysis. — M.: Nauka, 1974.
11. Taylor F. W. Scientific organization of labor. — M: 1929..
12. V. Tyukhtin C. Reflection, systems, and Cybernetics. — M.: Nauka, 1972.
13. Yudin, E. G. a Systematic approach and the principle of activity. -M.: 1978.
About this article
Author:





Year:

2015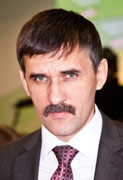 Editor-in-chief
Sergey Aleksandrovich
MIROSHNIKOV