Подача статей





Kataeva L.V., Perunova N.B., Karpukhina N.F., Stepanova T.F., Bukharin O.V.
THE BIOLOGICAL CHARACTERISTIC OF THE BACTERIA OF THE SORT AEROMONAS ALLOCATED FROM MOLLUSKS-BITINIID AND A RESERVOIR
The aim: to determine the species structure and biological properties of Aeromonas, isolated from water and mollusks family Bithyniidae. Materials and methods: mollusks and water from their habitats are the materials used in this research. The material was collected at the Iryum River (the Ob-Irtysh basin) in the summer period. 176 strains of Aeromonas bacteria were picked. Identification of bacteria was performed by matrix-assisted laser desorption/ionization — MALDI-TOF Microflex LT (Brucker Daltonics ®). The presence of hemolysin, lecithinase, plazmokoagulase and lysozyme were investigated by conventional methods. The antilysozyme activity of bacteria was determined by method of Bukharin O.V. et al. (1999), the biofilm formation — by G. O'Tool et al. (2000). The results: taxonomic composition and biological properties of bacteria of the genus Aeromonas isolated from bitiinid and their habitat (water). Mollusks allocated species such as A. veronii, A. hydrophyla, A. ichthiosmia, and out of the water — A. veronii, A. ichthiosmia, rarely — A. cavia. Isolates with hemolytic, lecithinase activity and had no lysozyme and plasma coagulation activity. Intensity of antilysozyme activity and biofilm formation of bacteria of the genus Aeromonas varied depending on the source selection cultures. Conclusion: the bacteria of the genus Aeromonas are widely represented in microsymbiocenosis of mollusks Bithyniidae and water and have a complex of biological properties, which contributes to the adaptation of microorganisms to their environment. The data obtained contribute to deciphering the mechanisms of formation, maintenance and operation of the association microparasitocenosis.
Key words:
associative symbiosis, microsymbiocenosis, shellfish, bacteria of the genus Aeromonas.
References:
1. Vasilyev D.A., Victor D., Nasibullin I.R., Zolotukhin S.N., Nafeev A.A., Gorshkov I.G., Kuklin N.G., Bart N.G. Detection of Aeromonas hydrophila in food products from aquatic organisms using biosensors based on homologous bacteriophage // Basic Research. — 2014. — №5 — 1. — S.50-54.
2. Kanayeva T.I. Development of methods for isolation and identification of bacteria Aeromonas hydrophila // Author. dis. ... Kand. biol. nauk. — Saratov, 2009. — 19 pp.
3. Beleneva I.A., Zhukova N.V. The taxonomic composition of the microflora associated with cultured clams Crassostrea Lugubris and Perna Viridis and water in the lagoon of Nha Trang Bay, Vietnam / // Microbiology, 2007. — V. 76. — № 2.– P. 253-262
4. Shtykova Iu.R. Symbiotic intestinal microflora and the associated Baikal gastropods. // Author. dis. ... Kand.biol.nauk. — Irkutsk, 2013. — 19 pp.
5. Kataeva L.V., Korpuhina N.F., Stepanova T.F., Stepanova K.B., Kolotova O. Microsymbiocenosis of mollusks of the genus Codiella as a basis for forming a symbiotic relationship in the "parasite-host" at opistorhose / /Med.parazitol. — 2014. — №3. — P.13-17.
6. Pujalte M.J., Ortigosa M., Maciбn M.C., Garay E. Aerobic and facultative anaerobic heterotrophic bacteria associated to Mediterranean oysters and seawater // Int. Microbiol. — 1999. — V. 2. — № 4. — P. 259-266.
7. Љyvokienė J., Mickėnienė L. Change in the intestinal microflora of molluscs from the Neris river depending on pollution // Acta Zoologica Lituanica. — 2002. — V. 12. — № 1. — P. 76-81.
8. Marsollier L., Severin T., Aubry J., Merritt R.W., Saint Andre J.P., et al. Aquatic snails, passive hosts of Mycobacterium ulcerans // Appl. Environ. Microbiol. — 2004. — № 70. — P. 6296-6298.
9. Romanenko L.A., Uchino M., Kalinovskaya N.I., Mikhailov V.V. Isolation, phylogenetic analysis and screening of marine mollusc-associated bacteria for antimicrobial, hemolytic and surface activities // Microbiological Research. — 2008. — № 163. — P. 633-644
10. Birger M.O. Handbook of microbiological and virological research methods. M .: Medicine. — 1982. 463 pp.
11. Bukharin O.V. Persistence of pathogenic bacteria. M. Medicine. — 1999. 365 pp.
12. O'Toole G., Kaplan H.B., Kolter R. Biofilm formation as microbial development. Annu. Rev. Microbiol. — 2000. — № 54. — P. 49-79.
13. Bukharin O.V., Perunova N.B. Microsymbiocenosis. — Yekaterinburg, Ural Branch of Russian Academy of Sciences. — 2014. 260 pp.
14. Ovsyannikova E.V., Fedorova N.N., Zaitsev V.F. Shellfish as possible indicators of the environment. // The successes of modern science. — 2003. — № 2. — P. 14-16.
15. Potievsky E.G., Tsarev L.A., Burlin V.V. Infectious Diseases mariculture in the Soviet Far East // Mat. Symp. parasitology and pathology of marine organisms. — Leningrad. — 1981. — P.81-82.
About this article
Authors:

Buharin O.V., Perunova N.B.



Year:

2015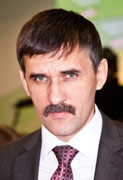 Editor-in-chief
Sergey Aleksandrovich
MIROSHNIKOV