Подача статей





Mikhaylova N.R., Kalinin T.N., Leggings E.I., Tuchkov D.Yu., Meshcheryakov V.G., Korneev A.G.
RARE OPPORTUNISTIC DISEASES AT HIV-POSITIVE PATIENTS: ATYPICAL MYCOBACTERIOSIS
Recently at HIV-positive patients with the expressed manifestations of an immunodeficiency in the Orenburg region the secondary diseases which are found earlier in rare instances, including atypical микобактериоз began to be registered. Mikobakterioz is among opportunistic infections which develop at HIV-positive people at late stages of a disease and can be indicators of a deep immunosupressiya, that is is the HIV-associated pathology. Often микобактериоз coincides on a clinical, laboratory, radiological picture with other opportunistic infections, such as tuberculosis, a tsitomegalovirusny infection, limfoproliferativny defeats that causes the necessity of carrying out differential diagnostics with these diseases. The main diagnostic criterion of not tubercular mikobakterioz is allocation and identification of mikobakteriya which is carried out in establishments of a ftiziatrichesky profile and causes difficulties of diagnostics in other medical institutions. The clinical case illustrating features of a current and complexity of diagnostics of not tubercular mikobakterioz at the patient with HIV infection at a stage of secondary diseases with a deep immunosupressiya is presented. The symptoms, laboratory indicators testifying to need of carrying out diagnostic search for verification of an atypical mikobakterioz at HIV-positive patients are allocated.
Key words:
HIV infection, immunosupressiya, atypical микобактериоз, differential diagnostics.
References:
1. Yermak T. N. Secondary diseases at patients with HIV infection in Russia/Yermak T. N., Kravchenko A. V., Shakhgildyan V. I. In book: Russian науч. — практич. Konf. "The infections caused by opportunistic microorganisms". Moscow, 9-10 Oct. 2007: Collection of materials. M.: 2007. 32-33.
2. Shakhgildyan V. I., Vasilyeva T. E., Peregudov A. B., etc. A range, features of a clinical current, diagnosis of opportunistic and associated diseases at HIV-positive patients of an infectious hospital of Moscow. Therapeutic archive, 2008, t. 80, page 10-17.
3. Daley C.L., Griffith D.E. Pulmonary non-tuberculous mycobacterial infections/Int. J. Tuberc. LungDis. — 2010. — Vol. 14, No. 6. — River 665-671/
4. Guntupova of L. D. Mikobakterioza in ftiziopulmonologichesky practice: review of literature and own experience/L. D. Guntupova, S.E. Borisov, I. P. Solovyova, M. V Makarova, E. N. Hachaturyants. Applied medicine. On June 25, 2011 No. 3.
5. Tuberculosis problems at patients with HIV infection / Under the general edition of O. P. Frolova. — Bulletin No. 12. — M. Tver: JSC Triada Publishing House, 2013. — page 33-34.
6. Karakousis PC, Moore RD, Chaisson RE, Mycobacterium avium complex in patients with HIV infection in the era of highly active antiretroviral therapy.Lancet infect Dis 2004. 4:557 — 65.
7. Hoffman K. Treatment of HIV infection 2009/K. Hoffman, Yu. K. Rokshtro — M.: R. Valent, 2012. — 648 pages.
8. Bartlett, J. Clinical aspects of HIV infection. 2012 / J. Bartlett, J. Galant. P. Farm. — M.: R. Valent, 2010. —
528 pages.
9. A human immunodeficiency virus — medicine. Under N. A. Belyakov and A. G. Rakhmanova''''s edition. — SPb.: Baltic medical educational center. 2010. — 752 pages.
10. Burman W.J., Jones, B.E. Clinical and radiographic features of HIV-related tuberculosis. SeminRespir Infect 2003; 18: 263-71.
11. Yushchuk N. D. The national management" / under the editorship of N. D. Yushchuk, Yu.Ya. Vengerov. — M.: GEOTAR-media, 2009. — 1047 pages of Page 784—796.
About this article
Authors:

Kalinina T.N., Mihaylova N.R., Korneev A.G.



Year:

2015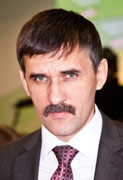 Editor-in-chief
Sergey Aleksandrovich
MIROSHNIKOV