Подача статей





Boldyreva T.A.
THE QUALITY OF LIFE AND SOME OBJECTIVE AND SUBJECTIVE FACTORS OF STUDENTS' LIFE CORRELATION (WITH THE EXAMPLE OF ORENBURG STATE UNIVERSITY)
The article, based on the empirical study results describes the psychological structure of students' quality of life dependence on the objective conditions and subjective personality traits. The material well-being of a student empirical study data, his parent families, the individual parameters of the attitude to oneself, the dominant emotional states, self-assessment of health, the importance of life spheres and values have allowed the author to allocate the specific structure, the quality of life characteristic to the students.
Key words:
quality of life, semantic space, life values, individual life potential, adolescence.
References:
1. Zasedenets, E.E. Methodology of measuring and quality of life assessment for the population of Russia. / E.E. Zasedenets, G.M. Zarakovsky, I,V. Penova. // The Worls of Measuring. — 2010. №2. — p.37-44.
2. Nazarenko, E.V. The quality of life as an existential problem. // The state politics for reformation of social and humanitarian education: the comparison of the experience of post-socialist states: a digest of memoirs based on the material of Moscow scientific and practical seminar. — Orenburg, 2014. — p.167-174.
3. Savchenko, T.N. The subjective quality of life methodology research. // Applied judicial psychology. — 2010. — №4. — p.23-35.
4. Semke, A.V. The subjective self-assessment by the first-year students. — A.V.Semke, V.N.Shadrin. // The Siberian Herald of Psychiatry and Addiction. — 2012 — №2 p/ 51-53.
5. Sorokin, V.M. Special psychology: tutorial / scientific edition L.M.Shipitsyna. — StP: "Rech". 2003. — 216p. ISBN 5-9268-0214-8.
6. Fedorov, M.V. The quality of life and its assessment./ M.V.Fedorov, E.E.Zaselenets. // The problems of psychology and ergonomics. — 2000. — №1. — p.41.
7. Yapparova, R.R. The quality of life: genesis of the notion and modern approaches. // Economics and management: scientific and practical journal. — 2012 — №6. — p.49-53.
About this article
Author:

Boldyreva T.A.



Year:

2015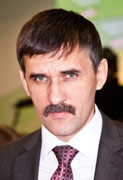 Editor-in-chief
Sergey Aleksandrovich
MIROSHNIKOV