Подача статей





Shcherbakov D.A.
PRINCIPLES OF THE RECOVERY OF THE PARANASAL SINUS WALLS WITH THE ALLOGRAFTS
The problem of restoration of the walls of the orbit and adjacent structures is relevant for ophthalmosurgeons, maxillofacial surgeons, otolaryngologists. The article presents the results of studies of reparative and induced osteogenesis, and age characteristics of the facial bones of the skull. The features of the regeneration when replanting replacement of cartilage and bone allografts in bone defects. Are some anthropometric facial bones in the age aspect. The results obtained were the basis of the principles in the development of reconstructive surgery of the paranasal sinuses walls using various connective tissue allografts. Expediency of the plasty defects of the front wall of the frontal sinus, defects of the anterolateral wall of the maxillary sinus with the cartilage allograft in the case of purulent inflammation in the paranasal sinuses was grounded. Describes the possible use of demineralized bone allograft in the absence of the need to restore the capacity of bone tissue, as well as during the "clean" operations.
Key words:
paranasalsinuses, allograft.
References:
1.Bodzhokov A.R. Plastic walls of the paranasal sinuses homograft of demineralized bone. Russian otorhinolaryngology. —2011. —№4. —S. 33.
2.Zubareva A.A., Chibisova M.A., Dudarev A.L., Shavgulidze M.A. Possibilities of digital volume tomography in otolaryngology, maxillofacial surgery and surgical dentistry. Medical alphabet. —2012 —T. 2. —№7. — S. 18 24.
3.Nigmatullin R.T., Shcherbakov D.A., Musina L.M., Tkachev A.A. Some aspects of the clinical use of bone and cartilage allografts. Medical Bulletin of Bashkortostan. 2012 T. 7. —№4. — S. 78 83.
4.Shcherbakov D.A. Recovery of support structures rinoorbitalnogo complex using allografts. Bulletin of the Orenburg State University. 2013. —№4 (153). —S. 318 323.
5. Simmen D., Jones N. Manual of endoscopic sinus and skull base surgery. New-York: Thieme. 2013. — 484p.
About this article
Author:

Shcherbakov D.A.



Year:

2015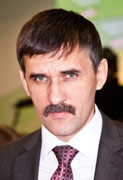 Editor-in-chief
Sergey Aleksandrovich
MIROSHNIKOV