Подача статей





Ermak E.M., Pozdeeva O.G., Dulyba O.R.
CHOROIDAL BLOOD FLOW IN YOUNG PATIENTS WITH PERIPHERAL RETINAL DEGENERATIONS
Retinal degeneration in the periphery is a major cause of rhegmatogenous retinal detachment, resulting in low vision, blindness and disability 2–9 % in young adults [4]. It is enough to examine the nature of hemodynamic disturbances in the ophthalmic artery, central retinal artery and short posterior ciliary arteries in young patients with peripheral retinal degeneration [3]. The speed parameters of choroidal blood flow in patients with risk forms of peripheral vitreohorioretinal dystrophies were studied with the help of an integrated ultrasound examination. The speed characteristics and choroidal blood flow pulsator index were significantly low in the projection hearth of lattice and "snail track" degenerations.
Key words:
Peripheral retinal degeneration, hemodynamics, choroidal blood flow.
References:
1. Kiseleva, T.N. Ultrasonic methods of investigation of blood flow in the diagnosis of ischemic eyes / T.N. Kiseleva // Vest Ophthalmol. — 2004. — №4. — P. 3–5.
2. Pozdeeva, O.G. Peripheral vitreochorioretinal degenerations in young adults: clinical features, diagnosis, pathogenesis, complex treatment : Diss. ... MD / O.G. Pozdeeva. — M., 2005.
3. Pozdeeva, O.G. Features of blood flow in the vessels of the eye in patients with risk forms of peripheral chorioretinal dystrophies / O.G. Pozdeeva, Dulyba O.R. // Russian Journal Oftalmol. — 2013. — 3. — P. 71–75.
4. Clinical features of peripheral vitreochorioretinal dystrophy in children with progressive myopia / I.A. Chervonyak [et al.] // East–West: Sb. scientific. Tr. scientific.-pract. conf. for ophthalmic surgery with int. involved. "East–West", 13–14 May 2011. — P. 444.
About this article
Author:

Pozdeeva O.G.



Year:

2014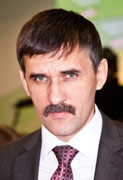 Editor-in-chief
Sergey Aleksandrovich
MIROSHNIKOV