Подача статей





Ezhova E.A., Melikhova I.A., Balalin S.V., Makovkin E.M.
CYTOMORPHOLOGICAL AND BIOMECHANICAL CHANGES IN CORNEA ASSOCIATED WITH APPLICATION OF ORTHOKERATOLOGICAL CONTACT LENSES IN MYOPIC CHILDREN AND ADOLESCENTS
Corneal status was assessed in 54 myopic patients (108 eyes) by means of confocal microscopy and rigidometry of corneoscleral membrane before and over the period of orthokeratological lens application. It was revealed that confocal microscopy enables evaluating cytomorphological changes in cornea, while rigidometry makes it possible to assess biomechanical after-effects of OCL wearing as well as their safety on a customized basis with regard to histomorphological state of corneal structures, findings of corneoscleral rigidity factor and level of intraocular pressure.
Key words:
orthokeratological contact lenses, cornea, confocal microscopy, rigidometry.
References:
1. Verzanskaja, Т.Yu. The impact of orthokeratology lenses on the clinical and functional indices of myopic eye and course of myopia: Dis. … candidate of medical sciences / T.Yu Verzanskaja. — М., 2006. — 29 p.
2. Report on the state of children health in Russian Federation // Medical Newspaper. — 2003. — 30. — P. 15–18.
3. Nagorskij, P.G. Clinical rationale for the use orthokeratology lenses for optical correction and treatment of progressive myopia in children and adolescents / P.G. Nagorskij, V.V. Belkina // Proceedings of the conference. — S.-Pt. — 2010. — 2. — P. 123.
4. Smirnova, I.Y. Contemporary state of visual function in school children: problems and perspectives / I.Y. Smirnova // Eye. — 2011. — 79. — 3. — P. 2–8.
5. Tarutta, Е.P. Ortokeratology as a way of correction and treatment of progressive myopia / E.P. Tarutta // Refractive and oculomotor disorders: proceedings of the international conference. — М. — 2007. — P. 167.
6. Efron, N. Confocal microscopic observations of stromal keratocytes during extended contact lens wear / N. Efron, I. Perez-Gomez, P.B. Morgan // Clin. Exp. Optom. — 2002. — 85. — 3. — P. 156–160.
7. Efron, N. Contact lens-induced changes in the anterior eye as observed in vivo with the confocal microscope / N. Efron // Prog. Retin. Eye Res. — 2007. — 26. — 4. — P. 398–436.
About this article
Authors:

Melihova I.A., Balalin S.V., Makovkin E.M.



Year:

2014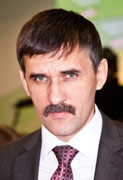 Editor-in-chief
Sergey Aleksandrovich
MIROSHNIKOV