Подача статей





Borshchuk E.L., Voronina A.E.
COMPARATIVE ESTIMATION OF CRITERIA OF QUALITY OF LIFE IN PATIENTS WITH OPHTHALMOPATHOLOGY
A person gets about 95 % of the information about the world around through the organ of sight. Even a slight decrease in vision can have a significant negative impact on quality of life. An anonymous survey of patients who first applied in Orenburg branch of "The S. Fyodorov Eye Microsurgery Complex", in the period 2012–2014 years was carried out. Cataract was most often found in the age of 70–79 years. Most respondents with cataract, glaucoma, eye diabetes and retinal detachment rated their health as "mediocre", and the cause of their health status more often marked "Eyes".
Key words:
quality of life, cataract, glaucoma, diabetes, retinal detachment.
References:
1. Formation of Russian version of the World Health Organization instrument for measuring of quality of life / G.V. Burkocskiy [et al.] // Problems of optimization of lifestyle and human health. — SPb, 1995. — P. 27–28
2. Using the Quality of Life Questionnaire (WHO version) in psychiatric practice: a manual for physicians and psychologists / G.V. Burkovskiy [et al.]. — SPb, 1998. — 53 p.
3. Kozlovskiy, V.L. Quality of life in patients with schizophrenia during maintenance therapy:methodological recommendations / V.L. Kozlovskiy, S.Yu. Maslovskiy. — SPb, 2011. — 22 p.
4. Novik, A.A. The concept of quality of life assessment in medicine / A.A. Novik, T.I. Ionova, P. Kaynd. — St.Peterburg. — ELBI. — 1999. — P. 139.
5. Novik, A.A. Guideline to the study of quality of life in medicine / A.A. Novik, T.I. Ionova. — М., OLMA-PRESS, 2002. — 314 p.
6. Yelin, E. Measuring Functional Capacity of Persons with Disabilities in Light of Emerging Demands in the Workplace / E. Yelin // NAP. — 1999.
7. The association of multiple visual impairments with self-reported visual disability: SEE project / G.S. Rubin [et al.] // Invest. Ophthalmol. Vis. Sci. — 2001. — Vol. 42 (1). — P. 64–72.
About this article
Authors:

Borshchuk E.L., Voronina A.E.



Year:

2014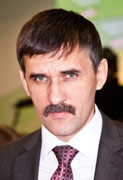 Editor-in-chief
Sergey Aleksandrovich
MIROSHNIKOV