Подача статей





Aprelev A.E., Pashinina R.V., Karaulova E.S.
EVALUATION OF SOME ASPECTS OF LIFE QUALITY IN CONJUNCTION WITH ASSOCIATED PATHOLOGY INSTUDENTS WITH MYOPIA
The article highlights some aspects of quality of life in conjunction with associated pathology in students from 1 to 3 year of The Orenburg State Medical Academy. Revealed, that students with a high myopia is more concerned about their eyesight regardless of the presence of concomitant somatic pathology. Least discomfort at work at close range, housework occurs at students with a low myopia, and the highest — with a high myopia. Myopia takes a leading place (14.6 %) among chronic pathology at students.
Key words:
myopia, quality of life, somatic pathology, students.
References:
1. Volkova, E.M. Effect of the VNS tone on accommodative function of the eye in low and medium myopia / E.M. Volkova, V.V. Strakhov // Clinical Ophthalmology. — 2006. — №4. — P. 158–162
2. Libman, E.S. Medical and social problems in ophthalmology / E.S. Libman // Proceedings of the IX Congress of Ophthalmologists. — M. — 2010. — P. 70–71.
3. Lyalin, A.N. About the tactics of treatment of acquired myopia, based on the theory of adaptation / A.N. Lyalin, V.V. Zharov, G.E. Kuznetsov // Clinical Ophthalmology. — 2013. — №1. — P. 14–17.
4. Tarutta, E.P. Possibilities of prevention of progressive and complicated myopia in the light of current knowledge about its pathogenesis / E.P. Tarutta // Bulletin of Ophthalmology. — 2006. — Vol.122, №1. — P. 43–46.
5. Psychological morbidity and impaired quality of life in patients with stable treatment for primary adrenal insufficiency: cross-sectional study and review of the literature / J. Tiemensma [et al.] // Eur J Endocrinol. — 2014, Aug. — 171(2). — P. 171–182.
6. Prevalence of myopia in school children in greater Beijing: the Beijing Childhood Eye Study / Q.S. You [et al.] // Acta Ophthalmol. — 2014, Aug. –92(5). — P. 398–406.
About this article
Author:

Aprelev A.E.



Year:

2014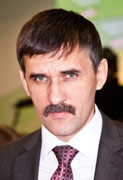 Editor-in-chief
Sergey Aleksandrovich
MIROSHNIKOV