Подача статей





Yakunin N.N., Nurgalieva D.H.
TRANSPORT MOBILITY OF THE POPULATION IN ORENBURG
The paper presents the results of a study of the transport mobility of the population in the city of Orenburg. Survey methods and mathematical statistics defined statistical characteristics of the main indicators of the transport mobility of the population: the number and distance of movement on the various modes of transport and on foot; transportation work. The results can be applied to optimize the routing of the transport network and the definition of technological and structural indicators of public road transport.
Key words:
transport mobility, the amount of movement, the distance of movement, transportation work.
References:
1. Shefter, Ya.I. Recommendations in terms of minimum standards for temporary transport mobility of the population in cities and the quality of services / Ya.I. Shefter, K.V. Tryakin. — M .: Transport, 2002. — 183 p.
2. Yakunina, N.V. Methodology for improving the quality of public transport of passengers by road. Monograph / N.V. Yakunina, N.N. Yakunin. — Orenburg: OOO IPK "University", 2013. — 289 p.
3. The quality of passenger transport: the possibility of studying the methods of sociology / V.A. GUDCov [et al.]. — Volgograd: Volgograd State Technical University, 2008. — 163 p.
4. Spirin, A.V. Improving the quality of the carriage of passengers by road for regular routes improving organizational and functional structure of the carrier: a thesis for the degree of candidate of technical sciences / A.V. Spirin. — Orenburg: OOO IPK "University" 2013. — 160 p.
5. Richter, K. Statistical methods in transport research / K. Richter. — M .: Transportation, 1982. — 72 p.
6. Yakunina, N.V. Technological features models of the organization of transport service by road for regular transport routes / NV Yakunina // Cargo and passenger car fleet, 2013. — №4. — P. 70–74.
About this article
Authors:

Yakunin N.N., Nurgalieva D.H.



Year:

2014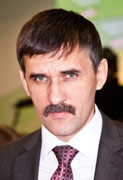 Editor-in-chief
Sergey Aleksandrovich
MIROSHNIKOV