Подача статей





Tretiak L.N., Kosykh D.A.
ABOUT IMPROVEMENT OF AUTOMOBILE OPERATIONAL MATERIALS QUALITY
In article it is established that for the operational materials made on a prescription basis, the effective instrument of improvement of quality and competitiveness will be application of the functional and cost analysis. It will allow consider object as part of the functions which are carried out by it, to create functional model of object of research, to reveal the most essential functions, thereby to define zones of concentration of useful and harmful expenses which exception will help to increase competitiveness and quality of operational materials.
Key words:
value engineering, operational materials, consumer properties, ductile greasing, cost characteristics, main function, additional function.
References:
1. Kirichenko, N.B. Automobile operational materials: Practical work / N.B. Kirichenko. — M.: Publishing center "Akademiya", 2012. — 96 p.
2. Vlchek, R. Value engineering in management: translated from Czech / R. Vlchek. — M.: Economy, 1986. — 176 p.
3. Kuzmina, E.A. Value engineering. Digression to history / E.A. Kuzmina, A.M. Kuzmin // Quality management methods. — 2002. — No.7. — P. 14–20.
4. Golibardov, E. I. Technique VE / E.I. Golibardov, A.V. Kudryavtsev, M.I. Sinenko. — Kiev.: Technics, 1989. — 239 p.
5. Kuzmin, A.M. Forms of using of value engineering / A.M. Kuzmin, A.A. Baryshnikov // Mashinostroitel. — 2001. — No.1. — P. 41–46.
6. Kuzmin, A.M. Functional analysis as instrument of Russian Economy rise and development / A.M. Kuzmin, A.A. Baryshnikov / Mashinostroitel. — 2001. — No.11. — P. 48–50.
7. Kuzmin, A.M. Functional analysis: identification, definition and classification of functions / A.M. Kuzmin, A.A. Baryshnikov, E.A. Kuzmina // Mashinostroitel. — 2001. — No.9. — P. 33–39.
8. Kosykh, D.A. Formation and development of marketing activity operational management the industrial enterprises / D.A. Kosykh // Thesis abstract on competition of an academic degree of Candidate of Economic Sciences 08.00.05 — Economy and management of a national economy (marketing). — 2006. — 25 p.
About this article
Authors:

Kosyh D.A., Tretyak L.N.



Year:

2014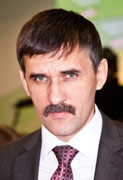 Editor-in-chief
Sergey Aleksandrovich
MIROSHNIKOV