Подача статей





Mokhnatkina L.B.
METHODOLOGICAL ASPECTS OF THE IMPACT OF FINANCIAL AID ON ECONOMIC GROWTH IN REGIONS
The dynamics of financial assistance to subjects of the Russian Federation from the Federal budget over the ten-year period. Implemented the author's approach to the structuring of the financial flows in the intergovernmental fiscal relations in terms of their degree of centralization, and also from a position of direct and indirect influence on the development of territories. Assessment of the effect of aid on economic growth using the metric of elasticity.
Key words:
regional economic security, territorial redistribution, financial aid, interbudgetary relations, intergovernmental transfers, economic growth.
References:
1 Senchagov V., Gubin B., Pavlov V., Karavaeva I., Ivanov E. Federal budget 2013-2015 — the budget of the deferred modernization (the abridged version of independent examination of the Center for Financial Research of the Institute of Economics of the RAS) // Bulletin of the Institute of economy RAS. — 2013. — № 1. — C. 7-54
2 National accounts [Electronic resource] /Federal state statistics service [web site]. — Access mode: // http://www.gks.ru/wps/wcm/connect/rosstat_main/rosstat/ru/statistics/accounts/# (date of access: 15.09.2013)
3 Information on execution of the RF consolidated budget [Electronic resource] /Federal Treasury of the Russian Federation [web site]. — Access mode: // http://www. roskazna.ru/konsolidirovannogo-byudzheta-rf/ (date of access: 15.09.2013)
4 inter-Budgetary transfers to the RF subjects [Electronic resource] /Federal Treasury of the Russian Federation [web site]. — Access mode: // http://datamarts.roskazna. ru/index.php/2011-razdely/raskhody/mezhbyudzhetnye-transferty/fk-0004-0026 (date of access: 15.09.2013)
5 Interbudgetary transfers to extra-budgetary funds [Electronic resource] /Federal Treasury of the Russian Federation [web site]. — Access mode: // http://datamarts.roskazna.ru/index.php/2011-razdely/raskhody/mezhbyudzhetnye-transferty/fk-0004-0028 (date of access: 15.09.2013)
About this article
Author:

Mohnatkina L.B.



Year:

2014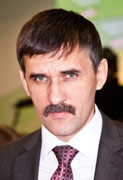 Editor-in-chief
Sergey Aleksandrovich
MIROSHNIKOV