Подача статей





Mokhnatkina L.B.
TRANSFERS AS A TOOL TO SUPPORT REGIONAL ECONOMIC SECURITY [№ 1 ' 2015]
Researched terminology transfer redistribution, its development in the Russian budget legislation, the selected characteristic of certain forms of transfers. Analyzed the dynamics of transfers provided to the subjects of the Russian Federation from the Federal budget, estimated the unevenness of their distribution. The conclusions regarding the efficiency impact of intergovernmental transfers on the level of regional economic security.
Mokhnatkina L.B.
METHODOLOGICAL ASPECTS OF THE IMPACT OF FINANCIAL AID ON ECONOMIC GROWTH IN REGIONS [№ 8 ' 2014]
The dynamics of financial assistance to subjects of the Russian Federation from the Federal budget over the ten-year period. Implemented the author's approach to the structuring of the financial flows in the intergovernmental fiscal relations in terms of their degree of centralization, and also from a position of direct and indirect influence on the development of territories. Assessment of the effect of aid on economic growth using the metric of elasticity.
Mohnatkina L.B.
BUDGET DIRECT EXPENSES OF RUSSIAN FEDERATION SUBJECT AND MUNICIPAL FORMATION INDEPENDENCE [№ 4 ' 2002]
The article is written on the results within the framework of the research directed on the improvement of interbudget relations in the Orenburg region. The main strategy contents of the expenses influence estimation of Russian Federation are presented in the work. For the first time the theoretical dependency of the direct expenses description on the municipal formations independence is published.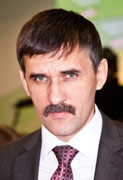 Editor-in-chief
Sergey Aleksandrovich
MIROSHNIKOV