Подача статей





Aptikiyeva L.R., Aptikiyev A.Kh., Bursakova M.S.
THE FAMILY AS A FACTOR IN PERSONAL DEVELOPMENT OF THE CHILD
References: оn the basis of theoretical analysis of the psychological and educational literature devoted to the problem of formation of the child under the influence of the family, its features, such as, the specific relationships of its members. We consider the concept of the family, its functions, types, the concept of "parenting" approach to family education (psychoanalytic, behaviorist, humanistic). The conditions and performance safely and dysfunctional family and their impact on the development of the child.
Key words:
family, family types, functions, family, parenting, family education, the development of the child.
References:
1. Alekseev L.S. Family counseling service in social work // Family in Russia. 1996. Number 3/4. — P. — 113-126.
2. Aleshina Y. Individual and family counseling // Social Health of Russia. M. Class, 1994. — P. 25-37.
3. Aptikieva L.R., Aptikiev A.H., Bursakova M.S. Features of mental development of the individual in the family: a tutorial / Orenburg: IPK OSU, 2013. — 266 p.
4. Bozovic L.I. Problems of identity formation / ed. Feldstein D.I. Voronezh, 1995. -172 p.
5. Grishchenko L.A., Almazov B.N. Runaways and vagrancy. Sverdlovsk: in the Urals. University Press, 1988. — 68 p.
6. Dubrovina I.V., Lisina M.I. Features of mental development of children in the family and outside the family // Age features children's mental development. M., 1982. — 152 p.
7. Zdravomyslova O.M. Russian family in the 90s: the life strategies of men and women // Gender Blender: lectures / ed. Mikhail Malyshev. Moscow, 2001. — P. 474.
8. Loewen A. Love and Orgasm: lane. from English. Moscow: AST in 1998. — 428 p.
9. Rubinstein S.L. Fundamentals of general psychology. St. Petersburg: Piter, 2002. — 720 p.
10. Russian dictionary / ed. G.I. Knyazkova. Moscow: Publishing House of the Institute nat. words, 1958. — 583 p.
11. Spivakovskaya A.S. Seven "laws" of marital harmony // Childhood. 2003. Number 1. — P. 27-32.
12. Freud Z. The psychology of the unconscious. Moscow, 1989. — 439p.
13. Harchev A.G. Marriage and family. M: Thought, 1979. — 367 p.
About this article
Authors:

Aptikiev A.H., Aptikieva L.R., Bursakova M.S.



Year:

2014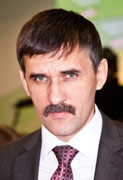 Editor-in-chief
Sergey Aleksandrovich
MIROSHNIKOV