Подача статей





Kulagina T.I.
THEMODELOFTHEDEVELOPMENTOF COGNITIVE INDEPENDENCE OF STUDENTS OF ECONOMIC SPECIALITIESIN LEARNING OF A FOREIGN LANGUAGE
The structure and content of a model of cognitive autonomy of students of economic specialitiesin learning a foreign languageis definedas the one built on integrity, completeness, consistency,interconditionality and interdependence of its components: the laws and principles, stages, goals, content, methods, forms and results, ie. didactic system that ensures the development of cognitive independence.
Key words:
model, levelsand criteriaof, independent, cognitiveactivites, stages of cognitive independence development, economic specialities, foreign language.
References:
1. Big Russian Encyclopaedia: 30volumes. — M.: Great Russian Encyclopaedia. — 2005. — 766 p.
2. Bespalko V.P. Pedagogy and progressive technologies/ V.P.Bespalko.– Moscow: IPOMORussia, 1995. — 336 p.
3. Gladkih V.G. Having a special purpose approach is new philosophy of management by educational establishment/ V.G. Gladkih. — Saransk, 2012.
4. Didus N.I.Organisationof independence as professional-meaningful quality of a personality of a future teacher/ N. Didus. — Odessa, 1987. — 137 p.
5. Korotyaev B.I.Studing — a creative process: book. for teachers: From own experience. — 2nd ed., ext. and Corr./ B.I.Korotyaev. — M.: Education, 1989. — 158 p.
6. Kruglova L.Y. Organisationof creative independence of teenagers in institutions of complementary education of children/ L.Y. Kruglova. — Chelyabinsk, 1977. — 207 p.
7. Ozhegov S.I.The vocabulary of Russian language/ S.I. Burns.– Moscow: Russianlanguage, 1987. — 750 p.
8. Pedagogical encyclopaedic dictionary/ Ch. Ed. B.M.Bim-Bad, Editorial Board.: M.M. Bezrukich, V.A.Bolotov, L.S.Glebova, etc.– M.: Great Russian encyclopaedic, 2002.– 528p.
9. Polovnikova N.A. The study of the process of formation of cognitive independence of students in the teaching / N.A. Polovnikova — Kazan: Izd-vo Tat. kn., 1977. — 202 p.
10. Ponomarev J.A. Psychology of creativity and pedagogy/ Y.A. Ponomarev.– M.: Education, 1976.– 280 p.
11. Ravichev A.A.Modern economy: manual for senior students. International centre of economic and business education/ A.A.Ravichev, S.A.Mikheev.– M. Vita Press: Intern. centre of economic and business education EBE MC, 2001.
12. Usova A.V. Development of students' learning and cognitive abilities / A.V. Usova. — Chelyabinsk, 1994. — 230 p.
13. Ushinsky K.D.Problems of pedagogy/ K.D. Ushinsky.– M.: PublishingerURAO, 2002. — 592 p. (New pedagogical library).
About this article
Author:

Kulagina T.I.



Year:

2013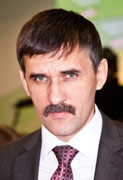 Editor-in-chief
Sergey Aleksandrovich
MIROSHNIKOV