Подача статей





Kaliev A.J., Damrin A.G.
ABOUT SOME DIRECTIONS OF OPTIMIZATION OF ARTIFICIAL LAKES OF THE SOUTHERN URALS
Study of the regularities of interaction of artificial reservoirs with natural environment is one of the urgent tasks of ecological-geographical research. As a result of conducted studies, developed the basic directions of optimization of artificial reservoirs, which provide for the eight major areas of area in the southern Urals.
Key words:
optimization, artificial reservoirs, landscape, construction, ordination.
References:
1. Avakyan A.B. Saltankin V.P. Akvatorialnoye division into districts and design of water reservoirs//Questions of anthropogenous water resources. — M, 1976. — Page 195-213.
2. Damrin A.G. Assessment of geoecological conditions of the Orenburg region for the purpose of hydrotechnical construction//the Region, Scientific-practical conference of young scientists and specialists of the Orenburg region: Collection materials. — Orenburg, 2003. — Page 111-112.
3. Damrin A.G. Assessment of the current state of artificial reservoirs of the Orenburg region and their impact on adjacent landscapes//Natural and cultural landscapes: environmental problem and sustainable development: Materials international societies. — Scientific conference — Pskov, 2002. — H. — Page 56-61.
4. Damrin A.G. Role of ponds and water reservoirs in landscape structure of the Orenburg region//Ecology 2003: Thesises. international pier. conference. — Arkhangelsk, 2003. — Page 17.
5. Mikhno V. B., Dobrov A.I. Landscape and ecological features of water reservoirs and ponds of the Voronezh region: Monogr. / Under. edition of prof. V. B. Mikhno. — Voronezh:izd. Voronezh. State. ???. un-that, 2000. — 185 pages.
6. Chibilyov A.A. Ural River. Historical and geographical and ecological sketches. L. : Gidrometeoizdat, 1987.168 pages.
7. Feasibility study on the organization and development of natural park "Iriklinsky"./ Research supervisor A.A.Chibilev, V. M. Pavley a chik — Orenburg, 2002.
About this article
Authors:

Kaliev A.Zh., Damrin A.G.



Year:

2013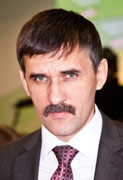 Editor-in-chief
Sergey Aleksandrovich
MIROSHNIKOV