Подача статей





Damrin A.G., Bozhenov S.N.
ISSUES INTERACTION OF SOUTH URAL ARTIFICIAL LAKES WITH LANDSCAPES BEACHES [№ 10 ' 2013]
The interaction of man-made reservoirs with coastal landscapes manifested in the formation of new types of banks and man-made landscapes. In this regard, the authors conducted typology shores of the Southern Urals and highlights the major types of banks.
Kaliev A.J., Damrin A.G.
ABOUT SOME DIRECTIONS OF OPTIMIZATION OF ARTIFICIAL LAKES OF THE SOUTHERN URALS [№ 10 ' 2013]
Study of the regularities of interaction of artificial reservoirs with natural environment is one of the urgent tasks of ecological-geographical research. As a result of conducted studies, developed the basic directions of optimization of artificial reservoirs, which provide for the eight major areas of area in the southern Urals.
Damrin A.G., Bozhenov S.N.
FEATURES OF EKOTONES' FORMING (ON THE EXAMPLE OF IRIKLINSKOE WATER RESERVOIR) [№ 12 ' 2011]
The article deals with the landscape and ecological features of the largest in the Southern Ural Iriklinskoe water reservoir. As a result of the analysis of the contemporary geo-ecological situation in the area and its coasts are marked transitional zones — ecotones, which represent new forms of natural and man-made landscapes.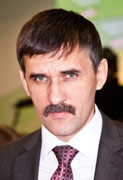 Editor-in-chief
Sergey Aleksandrovich
MIROSHNIKOV