Подача статей





Drobot G.P., Trubacheva V.S., Gazheeva T.P., Stepanova A.E.
CYTOCHEMICAL ASSESSMENTS OF PSEUDOEOSINOPHILS MICROBICIDAL FUNCTION OF GUINEA FOWLS
Cytochemical study of guinea fowl blood pseudoeosinophils were carried out. The high level of activity of lysosomal-cation proteins has been established in the cells of Russian breed Volgskaya belaya, French breed Essor and colored guinea fowl populations. Essor guinea fowl pseudoeosinophils differ in the alkaline and acid phosphatase levels.
Key words:
guinea fowl, pseudoeosinophils, myeloperoxidase, alkaline and acid phosphatase, lysosomal-cation protein.
References:
1. Zabiyakin V.A. The selection of the Volga white breed guinea fowl on the pigmentation of plumage and reproductive characteristics: Dis. Candidate. agricultural Science. — Sergiev Posad, 1993. — 130 p.
2. Drobot G.P., Zabiyakin V.A. Natural resistance guinea fowl and its relationship to reproductive qualities / Proceedings of the Kazan State Academy of Veterinary Medicine named after NE Bauman. — Kazan: Kazan State Academy of Veterinary Medicine, 2013. — V. 213. — P. 80-85.
3. Veitsman L.N. Breeding of guinea fowl //М.: Rosselkhozizdat, 1983. — 30 p.
4. Nagoev B.S. Essays about of microphage/ B.S. Nagoev — Nalchik: Elbrus, 1986. — 144 p.
5. Ponomarenko A.P., Timchenko L.D. On the question of the regularities of the formation of cell-mediated immunity in the chick embryo during development /Bulletin of the Moscow State Regional University series "Science" — M.: Publishing house of MSRU, 2009. — №4. — P.125-129.
6. Shubich M.G. Identification of cationic protein in the cytoplasm of leukocytes using bromophenol blue // Cytology, 1974. — V.16. — №10. — P.1321-1322.
7. Hayhoe F.G.J., Quaglino D. Haematological Cytochemistry. — M.: Medicine1983. — 320 p.
8. Unkerov V.I., Grigoriev S.G. Mathematical and statistical processing of medical research data. St. Petersburg: M M A. — 2002. — 266 p.
9. Shilova E.N., Sadchikova S.V. Hematologic and immunologic parameters in chickens of different ages / Agricultural Bulletin of the Urals, 2008 г. — №11(53). — P.86-87.
10. Cytochemical study of leukocytes. Age-related variations cytochemical indicators / ed. VB Letsko. — L.: Lenizdat, 1973. — 36 p.
About this article
Authors:

Drobot G.P., Trubacheva V.S., Gazheeva T.P., Stepanova A.E.



Year:

2013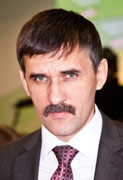 Editor-in-chief
Sergey Aleksandrovich
MIROSHNIKOV