Подача статей





Gazheeva T. P, Drobot G. P., Trubacheva V. S., Pavlova E. K.
THE DYNAMICS OF THE SIZE AND COMPOSITION MICROORGANISMS IN THE RHIZOSPHERE OF SOME CEREALS DURING THEIR GROWTH AND DEVELOPMENT [№ 10 ' 2013]
The comparative analysis of natural resistance of Numida of domestic species Volga white, of coloured population, speckled, blue and of French selected species Esser is carried out. The differences in the rates of nonspecific maintenance in analysed species of Volga white and French selected species Esser are revealed.
Drobot G.P., Trubacheva V.S., Gazheeva T.P., Stepanova A.E.
CYTOCHEMICAL ASSESSMENTS OF PSEUDOEOSINOPHILS MICROBICIDAL FUNCTION OF GUINEA FOWLS [№ 10 ' 2013]
Cytochemical study of guinea fowl blood pseudoeosinophils were carried out. The high level of activity of lysosomal-cation proteins has been established in the cells of Russian breed Volgskaya belaya, French breed Essor and colored guinea fowl populations. Essor guinea fowl pseudoeosinophils differ in the alkaline and acid phosphatase levels.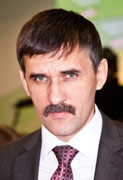 Editor-in-chief
Sergey Aleksandrovich
MIROSHNIKOV