Подача статей





Gazheeva T. P, Drobot G. P., Trubacheva V. S., Pavlova E. K.
THE DYNAMICS OF THE SIZE AND COMPOSITION MICROORGANISMS IN THE RHIZOSPHERE OF SOME CEREALS DURING THEIR GROWTH AND DEVELOPMENT
The comparative analysis of natural resistance of Numida of domestic species Volga white, of coloured population, speckled, blue and of French selected species Esser is carried out. The differences in the rates of nonspecific maintenance in analysed species of Volga white and French selected species Esser are revealed.
Key words:
Numida, natural resistance, phagocytosis, blood bactericidal activity, lysozyme.
References:
1. Bolotnikov I.A., Konopatov U.V. Practical Immunology poultry-Spb: Nauka, 1993. — P.208
2. Drobot G.P., Zabiakin V.A. Numida's natural resistance and its relation with reproductive quality//Scientific notes of Kazan State Academy of veterinary medicine named after N.E. Bauman. — Kazan: Kazan State Academy of veterinary medicine.-Vol.213.–P.80-85.
3. Royter Y.S., Guseva N. K. Rusetskaya T.P. Main directions of selective work with Numida//Poultry and its products, 2006.№1.-P.16-17
4. Veitsman L.N. Breeding of guinea fowl //М.: Rosselkhozizdat, 1983. — 30 p.
5. Azuabaeva G. Geese's nonspecific immunity during laying period while using vitamins// Poultry-farming economy. Poultry Farm. No. 9, 2011
6. Onozheev A.A. Agricultural animal's immunity/methodical manual/ Ulan-Ude:Buryat State Agricultural Academy, 2012. — P. 12-16.
7. Owen R. Bird's immune system//Poultry, 1996 No. 2.-P.39-41.
8. Sadovnikov N. V., Pridybailo N. D., Vereshchak N.A, Zaslonov A. S. General and the comparative analysis of a blood birds industrial crosses.– Ekaterinburg.-Spb.:UrGSHA– AVIVAK, 2009. P.18– 28.
9. Bukharin O.V., Vasiliev N.V. Beta-lysine system and its role in clinical and experimental medicine. Tomsk: Tomsk University, 1977.– P.190.
10. Kolabskaya L.S. Recommendations on measuring birds' natural resistance rates.-M.,1982.-P.34.
11. Gazheeva T.P., Krotkova M.V., Burmisova E.V., Masinova N.S. Guide to lab immunodiagnosis/–Yoshkar-Ola,2001.-P.39.
12.. Norman Arnheim, Jr., and Allan C. Wilson Quantitative Immunological Comparison of Bird Lysozynes//the Journalof Biological Chemistry Vol.242, №17 of Sep.10, 1967– P.3951-3956.
About this article
Authors:

Drobot G.P., Gazheeva T.P., Pavlova E.K., Trubacheva V.S.



Year:

2013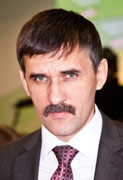 Editor-in-chief
Sergey Aleksandrovich
MIROSHNIKOV