Подача статей





Alekhinа G.P., Misetov I.A.
CHARACTERISTICS OF FILTRATION CAPACITY OF FRESHWATER BIVALVE MOLLUSCS OF THE FAMILY UNIONIDAE MIDDLE REACHES OF THE URAL RIVER
It is shown that among representatives of fresh-water folding mollusks of Unionidae family the type of Unio pictorum possesses the bigger speed of a filtration which decreases in the conditions of anthropogenous load of a reservoir that affects processes of self-cleaning of fresh-water ecosystems.
Key words:
fresh-water folding mollusks, filtration speed, reservoir self-cleaning.
References:
1. Alimov A.F. About a possible role of animals filtration organisms in processes of self-cleaning of reservoirs//Molluscs and their role in biocenoses and formation of faunae. — L.: Science, 1967. — Page 305-312. reservoir.
2. Zhadin, VI Freshwater Mussels waters of the USSR [Text] / V. I. greedy. — M., L.: Izd-vo AN USSR, 1952.-450p. — SBN 5-56-568492-0.
3. Shkorbatov GL Methods for studying bivalves-L.: Zoological Institute, USSR Academy of Sciences, 1990. — 205p.
4. Mashkin P. V. Technique of determination of number of populations of folding mollusks for a network of monitoring of water ecosystems / Items of V. Mashkin. — It is let.: ONTI PNTs, 1999. — 45с.
5. Alimov A.F. Functional ecology of fresh-water folding mollusks. L. science, 1981. — 248с.
6. Alyokhina G. P. Misetov I.A. Puzakova M. V. Dimensional and age structure of population of folding mollusks of an average watercourse Ural and its inflows. Messenger of regional public institution, 2007. ISSN 1814-6457 page.
About this article
Authors:

Alyohina G.P., Misetov I.A.



Year:

2013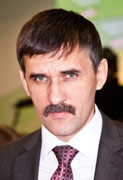 Editor-in-chief
Sergey Aleksandrovich
MIROSHNIKOV