Подача статей





Matchin A.A., Setko N.P., Nefedova E.S.
DENTAL HEALTHH OF CHILDREN IN AREAS OF VARIOUS ANTHROPOGENIC POLLUTION
The article provides an assessment of caries prevalence and intensity as well as heavy metals concentration levels in dental hard tissue of 12 years old children in Orenburg city (Russia) depending on the levels of anthropogenic environmental contamination in their residential areas.
Key words:
dental diseases, heavy metals concentration, children, environmental contamination.
References:
1. Adaeva S.А. Health expert evaluation of dental status of children of Vladimir /: dissertation of candidate of medical Sciences / S.А. Adaeva — Moscow — N. Novgorod, 2007. — 198 p.
2. Alimsky А.V. Prolonged study of the prevalence of caries of teeth of the child population of Krasnoyarsk / А.V. Alimsky // Economy and management in stomatology. — 2012. — №3. — P. 44–46.
3. Goryacheva V.V. Optimization of diagnostics and treatment of caries enamel of the permanent teeth in the system of school of dentistry / dissertation of candidate of medical Sciences / V.V. Goryacheva — Samara, 2013. — 24 p.
4. Zilenko O.G. Dental health of children living in ecologically unfavorable regions of Altai: /: dissertation of candidate of medical Sciences / O.G. Zilenko — Barnaul, 2006. — 160 p.
5. Moss, M.E. Association of dental caries and blood lead levels [Text] / M.E. Moss, B.P. Lanphear, P. Auinger // JAMA. — 1999. — № 28. — P. 2294–2298.
6. William, S.A. Parental smoking practices and caries experience in pre-school children [Text] / S.A. William, S.Y. Kwan, S. Parsons. — United Kingdom, 2003. — 178 p.
About this article
Authors:

Matchin A.A., Setko N.P., Nefedova E.S.



Year:

2013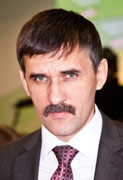 Editor-in-chief
Sergey Aleksandrovich
MIROSHNIKOV