Подача статей





Shorina T.S., Teslia A.V., Popov A.V.
INFLUENCE OF ROAD TRANSPORT PROPERTIES OF SOILS ROADSIDE AREAS OF ORENBURG
The effects of road transport on the chemical and physical properties of soils bordering territories of Orenburg. Revealed that in most cases the indicators of soil quality match the level of an environmental emergency. Detected excess of acid-forming compounds and, consequently, reduced soil pH to 4.7.
Key words:
soil cover, roadside areas, road transport, soil contamination, phytotoxicity, the physical properties of soils.
References:
1. Akhmetov, L.A., Kornev, E.V., Sitshaev T.Z. Road transport and the environment. — Tashkent Mehnat, 1990.
2. Rusanov A.M., Shorinа T.S. Experience in organizing the monitoring of soil Orenburg Region: All-Russian scientific-practical conference with international participation in the XIX International Specialized Exhibition "AgroComplex 2009." Part II. Scientific support for sustainable operation and development of agribusiness / A.M. Rusanov, T.S. Shorina. — Ufa HPE "Bashkir State Agrarian University", 2009. — P. 274-277.
3. Rusanov A.M., Shorina T.S., Misetov I.A. On the diagnosis and assessment of oil-polluted black soil / A.M. Rusanov, I.A. Misetov, T.S. Shorina / Bulletin of the Tomsk State University. — 2012. — №364. — P. 219-224.
4. The sources of environmental pollution [electronic resource]: studies. Manual / AI Baytelova, M. Yu Garitskaya, VF Kuksanov and M of Education and Science, State. images. institution of higher. Professor. education "OSU". — Orenburg: State OSU — 2009.
5. RISO GOST 22030 — 2009. The quality of the soil. Biological methods. Chronic phytotoxicity for higher plants. — Introducing. 2010 — 01. — M.: — in the Standards, 2009. — 20p.
6. Workshop on soil science / edited by JS Kauricheva. — Moscow: Kolos, 1980. — 272p.
7. Tarasova T.F., Chalovskaya O.V. Assessing the impact of acid rain on the elements of the ecosystem of the industrial city / T.F. Tarasov, O.V. Chalovskaya / / Bulletin of the Orenburg State University. — 2005. — №10. — P. 80-84.
8. Stepanova O.B., Rusanov A.M., Urov S.A., Polyakov D.G. Land monitoring of the Orenburg region — Orenburg, "Dimur", 2011. — 28c.
About this article
Authors:

Ukenov B.S., Shorina T.S., Popov A.V.



Year:

2013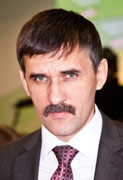 Editor-in-chief
Sergey Aleksandrovich
MIROSHNIKOV