Подача статей





Gasina A.I., Goncharov V.G.
AGROPHYSICAL PROPERTIES AND REGIMES OF SOILS UNDER CONDITIONS OF LYTHOLOGICAL INHOMOGENEITY OF SOIL COVER
Physical properties and regimes are the important component of productional process. The results of soil cover investigation of different agrolandscapes of Vladimir region (soddy-podzolic and grey forest soils) are represented in the article. Mechanisms of physical properties' distribution and features of water-air regime formation under conditions of highly spatial inhomogeneity of soil cover are considered.
Key words:
inhomogeneity, soil cover, agrophysical properties, water-air regime.
References:
1. Arkhangelskaya T.A., Butylkina M.A., Mazirov M.A., Prokhorov M.V. Composition and Properties of Arable Soils of Paleocryogenic Complex of Vladimir Opolie // Pochvovedenie, 2007, №3, p. 1-11.
2. Velichko A.A., Morozova T.D., Nechaev V.P., Porozhnyakova O.M. Cryogenesis in Late Pleistocene and Recent Soil Formation in Southern Taiga Zone (as an Example of Vladimir Opolie) // Pochvovedenie, 1996, №9, p. 1056-1064.
3. Goncharov V.M. Agrophysical Description of the Soils in Complex Soil Cover// Dissertation for a degree of Doctor of Biology, 2010, 221 p.
4. Lukin S.M. Agroecological explanation of fertilizers' using system in crop rotations on soddy-podzolic sandy-loam and sandy soils// Dissertation for a degree of Doctor of Agriculture, 2009, 354 p.
5. The Soils of Vladimir Region. Technical report// Vladimir branch of the institute Centrgiprozem, Vladimir, 1984, 193 p.
About this article
Authors:

Goncharov V.M., Gasina A.I.



Year:

2013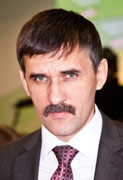 Editor-in-chief
Sergey Aleksandrovich
MIROSHNIKOV