Подача статей





Gasina A.I., Goncharov V.G.
AGROPHYSICAL PROPERTIES AND REGIMES OF SOILS UNDER CONDITIONS OF LYTHOLOGICAL INHOMOGENEITY OF SOIL COVER [№ 6 ' 2013]
Physical properties and regimes are the important component of productional process. The results of soil cover investigation of different agrolandscapes of Vladimir region (soddy-podzolic and grey forest soils) are represented in the article. Mechanisms of physical properties' distribution and features of water-air regime formation under conditions of highly spatial inhomogeneity of soil cover are considered.
Gasina A.I., Tymbaev V.G.
SPATIAL INHOMOGENEITY OF WATER-AIR REGIME OF GREY FOREST SOILS OF VLADIMIR OPOLIE [№ 12 ' 2011]
Factors of water-air regime formation of the soil cover of Vladimir opolie in highly inhomogeneous conditions are considered in the article. It is showed that characteristics of vertical organization of soil profile, mainly compaction of subsurface layer, presence and thickness of the second humic horizon, are the main factors that are involved in the processes of redistribution of soil moisture and water-air regime formation in this agrolandscape.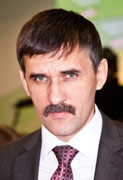 Editor-in-chief
Sergey Aleksandrovich
MIROSHNIKOV