Подача статей





Savina J.N., Zhukova S.I., Shchuko A.G., Yureva T.N.
OPHTHALMOLOGICAL MANIFESTATIONS OF ESSENTIAL HYPERTENSION IN CHILDREN AND TEENAGERS (PRELIMINARY REPORT)
The patients of childhood and adolescence with essential hypertension without visual complaints were examined. Disturbances of regional hemodynamics in the orbit vessels, sensory perception and neuronal interactions in the absence of significant ocular symptoms of hypertensive angiopathy were identified.
Key words:
adolescence, essential hypertension, oscillatory potentials.
References:
1. Bogolyubskaya A.Y. Complex assessment of organs-target status in hypertensive patients: author's abstract... cand. of med. sciences — M., 2009. — 26 p.
2. Kislyak O.A. Risk factors for cardiovascular disease in adolescents with arterial hypertension // Pediatriya.-2003. — №2.-P. 16-20.
3. Kislyak O.A. Hypertension in adolescence. M. Miklos. — 2007. — 288 p.
4. Kolesnikova L.I. Diagnostics, treatment, prevention principles of hypertension in children and adolescents. Guidelines. Irkutsk Scientific Center of family health problems and human reproduction SB RAMS. — 2010. — 43p.
5. Krasnov M.L., Shulpina N.B. Therapeutic ophthalmology. M.: Medicine. — 1985. — 444p.
6. Rozanov V.B. The prognostic value of risk factors for cardiovascular disease associated with atherosclerosis in children and adolescents and late results of preventive intervention: Author's abstract... doctor of med.sciences. — M., 2007. — 42p.
7. Shamshinova A.M., Volkov V.V. Functional methods of examination in ophthalmology. M.: Medicine. — 1998. — 416 p.
About this article
Authors:

Savina Yu.N., Yuryeva T.N., Zhukova S.I., Shchuko A.G.



Year:

2013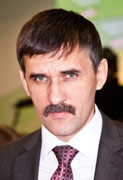 Editor-in-chief
Sergey Aleksandrovich
MIROSHNIKOV