Подача статей





Nigmatullin R.T., Kulbaev N.D., Dyatchina E.V.
TENSOMETRIC PARAMETERS AS A BIOPHYSICAL STRUCTURE EQUIVALENT OF THE FACIAL SOFT SKELETON
A comparative analysis of the biomechanical research results of the facial soft skeleton structures was held, using the needle tensometry methods on the cadaver material and with the help of the tissue strain contact registration on living faces. When doing it, age-related changes of the tissue strain were taken into account. The time history of the tissue strain changes in case of Alloplant biomaterial transplantation was described.
Key words:
contact tensometry, needle tensometry, tissue strain, facial soft skeleton, biomaterial transplantation.
References:
1. Lebedinskii V.U. Strain-deformational state of the organ structures (experimental-clinical research). — Irkutsk, 2000. — 42 p.
2. Nigmatullin R.T., Gafarov V.G., Salikhov A.U. Facial soft skeleton of the individual. Aspects of the surgical and functionmal anatomy. Ufa-2003.-136p.
3. Nigmatullin R.T., Gafarov V.G., Galiakhmetov R.F., Aslyamov N.N., Mukhametov A.R., Ishmukhametova I.R., Mukhametova Z.R. "The role of the tissue strain in the process of allogenic graft transplantation"/Vestnik OSU №78, 2007. — P.147-150
4. Nigmatullin R.T., Gafarov V.G., Gizatullina E.R., Ishmuratova I.R., Sherbakov D.A., Kashapova L.I., Chernov V.N., Mukhametov A.R. The application of tensometric research methods in dentistry. Ufa-2006.-39 p.
About this article
Authors:

Nigmatullin R.T., Kulbaev N.D., Dyatchina E.V.



Year:

2013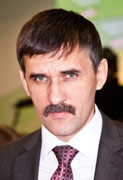 Editor-in-chief
Sergey Aleksandrovich
MIROSHNIKOV