Подача статей





Nigmatullin R.T., Kulbaev N.D., Dyatchina E.V.
TENSOMETRIC PARAMETERS AS A BIOPHYSICAL STRUCTURE EQUIVALENT OF THE FACIAL SOFT SKELETON [№ 4 ' 2013]
A comparative analysis of the biomechanical research results of the facial soft skeleton structures was held, using the needle tensometry methods on the cadaver material and with the help of the tissue strain contact registration on living faces. When doing it, age-related changes of the tissue strain were taken into account. The time history of the tissue strain changes in case of Alloplant biomaterial transplantation was described.
Aralbaeva F.Z., Nigmatullina T.H., Nigmatullin R.F.
AUDIT AS A TOOL TO ENHANCE DOCUMENT MANAGEMENT ENTERPRISE PERSONNEL [№ 13 ' 2012]
Discussed the need for a staff audit as Strategy for the functioning and development of any company, the system of effective management is impossible without access to the staff. Are views of personnel audit, update the importance of records management staff, revealed that one of the tools to enhance the functioning of the enterprise is personnel audit.
Muldashev E.R., Nigmatullin R.T., Nuraeva A.B., Shcherbakov D.A., Yanborisov T.M., Gizatullina E.R.
THE PROSPECTS OF R4 CONCEPT IMPLEMENTATION IN THE CRANIOFACIAL SURGERY [№ 12 ' 2012]
There are analyzed the possibilities of the basic points of "P4 Medicine" doctrine implementation in reconstructive surgery of skeleton and soft skeleton face in the article. There are considered the opportunities of personification and predictive of the treatment, relapse prevention and patient responsibility as an example of regenerative surgery of Alloplant technology. It is shown that transplantation methods of therapy in the craniofacial surgery are perfectly fit to the basic principles of medicine P4 and can be considered as its integral part. Transplantology can effectively use the achievements of systemic and evolutionary biology, genomics, information and nanotechnology in the format of the new paradigm of clinical medicine.
Nigmatullin R.T., Gafarov R.G., Galiakhmetov R.F., Aslyamov N.N., Mukhametov A.R., Ishmuratova I.R., Mukhametova Z.R.
ROLE OF TISSUE TENSION AT TRANSPLANTATION OF ALLOGENIC GRAFTS [№ 12 ' 2007]

Nigmatullin R.V.
IMPORTANT PROBLEMS OF PERSONAL SECURITY GUARANTEE IN INTERPOL ACTIVITY [№ 3 ' 2006]
The problems of personal security guarantee in activity of International organization of criminal police – Interpol according to the base of typical agreement of extradition are regarded in this article.
S.V Notova, G.Z. Ordzhonikidze, J.F. Nigmatullina
THE CONTENTS OF CHEMICAL ELEMENTS IN A SALIVA AND HAIR OF CHILDREN LIVING IN REGIONAL CENTRE SARAKTASH OF THE ORENBURG REGION. [№ 6 ' 2003]
The contents of chemical elements a saliva and in hair of children living in regional centre Saraktash of the Orenburg region was investigated by means of a technique of atomic-issue spectrometry and mass - spectrometry with inductive - connected argon plasma (АЭС-ИСП and МС-ИСП). Deviations in parameters of a mineral exchange are revealed which can become the reason of occurrence of various diseases.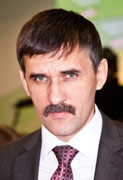 Editor-in-chief
Sergey Aleksandrovich
MIROSHNIKOV