Подача статей





Zharov V.V., Lyalin A.N., Perevozchikov P.A., Vasilyev Yu.G., Karban O.V.
IMPLANT-CARRIER NANOPARTICLES APPLICATION UNDER THE EXPERIMENTAL CONDITIONS
Implantation influence of implant containing human nanodispersed placentae on processes of reparational regenerations in experimental conditions on rabbits is studied. It is shown that considerable biological effects occur not only on contact border sclera — implant, and practically in all thickness of sclera in a zone of implantation of the implant with human nanodispersed placenta. Thus there is a strengthening as actually the recipient sclera in the field of not less 1/2 of its thickness, and shaping thick connecting-woven formation in zone of the implantations on a surface of sclera that significantly surpasses similar changes with application of a implant without human nanodispersed placenta.
Key words:
implant, human nanodispersed placenta, umbilical cord.
References:
1. Somov Е.Е. Scleroplasty. — SPb, 1995. — 144 p.
2. Muslimov S.A. Morphological aspects of regenerative surgery. — Ufa, 2000. — 168 p.
3. Kanyukov V.N. Experimental and histological foundation of new technologies in ophthalmosurgery. / V.N.Kanyukov, A.A.Stadnikov. — Orenburg, 2009. — 104 p.
4. Mechanochemistry of new materials creation: Textbook. allowance / O.V. Andryushkova [et al.]. — Novosibirsk, 2007. — 385 p.
5. Zharov V.V. Department of procurement, preservation, and production of plastic materials "Bioplast" / V.V.Zharov, E.R. Tochilova, N.N.Samartseva, A.N.Lyalin // Izhevskiye rodniki — 2008. Rus.scien. and research confer. of ophthalmologists with international participation: Proceedings. — Izhevsk, 2008. — P. 255-257.
About this article
Authors:

Zharov V.V., Lyalin A.N., Perevozchikov P.A., Vasilyev Yu.G., Karban O.V.



Year:

2013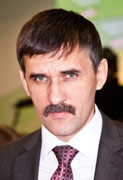 Editor-in-chief
Sergey Aleksandrovich
MIROSHNIKOV