Подача статей





Agafonova V.V., Marshava D.O., Shatskih A.V.
EXPERIMENTAL CALCULATED RATIONALE OF ORIGINAL BILENSECTOMY TECHNIQUE IN EYES WITH PREVIOUSLY IMPLANTED POSTERIOR CHAMBER PHAKIC IOL
Simulation of the laminar current of aqueous humor, using the software complex FlowVision HPC, has shown a practical absence of aqueous humor flow movement in the upper contour over the phakic lens partly dislocated with luxation into the anterior chamber, during manipulations of all the stages of cataract phacoemulsification with the aphakic IOL implantation under it in the process of bilensectomy, using the original technique, what is verified in the experiment ex vivo.
Key words:
cataract phacoemulsification, phakic IOL, bilensectomy technique.
References:
1. Agafonova V.V., Marshava D.O., Kerimova R.S. Technical peculiarities of cataract surgery in eyes with previously implanted posterior chamber phakic IOL// Oftalmologia.– 2009.– V. 6– No.1.– P. 19-23.
2. Marshava D.O., Vachnadze K.G., Shishaeva A.S. Simulation of the queous humor flows in the anterior chamber of the eye// "Up-to-date ophthalmological problems": the 5th All-Russia Scientific Conf. of Young Scientists: Collected articles. — Moscow, 2009.– P. 130-133.
About this article
Authors:

Agafonova V.V., Marshava D.O., Shatskih A.V.



Year:

2013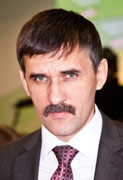 Editor-in-chief
Sergey Aleksandrovich
MIROSHNIKOV