Подача статей





Belyi Y.A., Tereshchenko A.V., Novikov S.V., Shatskikh A.V., Kolesnik S.V., Kolesnik A.I.
CLINICAL AND MORPHOLOGICAL INVESTIGATION OF INTRAOCULAR SAFETY OF NEW BIODEGRADABLE IMPLANT [№ 12 ' 2015]
The purpose of researcher is clinical and morphological substantiation of biodegradable implant safety during it's anterior chamber and intravitreal injection. The research was performed on 60 (120 eyes) rabbits chinchilla. Clinical examination, electroretinography and histology with light microscopy were performed after 1, 3, 7, 14, 21, 30 days. To assess the status of intraocular structures prior to implantation and in the dynamics underwent ophthalmic examination: biomicroscopy, photographic registration of fundus images, electroretinography. The results of the study indicates the safety of the intraocular injection of unsaturated and saturated dexamethasone implants.
Shatskikh A.V., Agafonova V.V., Frankowska-Gierlak M.S., Khaludorova N.B., Solomin V.A.
MORPHOLOGY OF IRIS OF THE EYE WITH PSEUDOEXFOLIATION SYNDROME [№ 12 ' 2014]
The aim of the research was to study the morphological and clinical changes of the iris in eyes with pseudoexfoliation syndrome (PEX). In donor еyes with PEX the destruction of the endothelium and basement membrane of the vessels of small and medium diameter, was detected with the appearance of the vessels-shadow and the regions of poor blood supply. In general the ischemic changes caused the destructuring of stroma and the iris muscle and could cause the changes of its functional state. The vascular disorders of the iris were revealed by carrying out the iris fuorescein angiography to patients with a cataract and various stages of pseudoexfoliation syndrome.
Agafonova V.V., Marshava D.O., Shatskih A.V.
EXPERIMENTAL CALCULATED RATIONALE OF ORIGINAL BILENSECTOMY TECHNIQUE IN EYES WITH PREVIOUSLY IMPLANTED POSTERIOR CHAMBER PHAKIC IOL [№ 4 ' 2013]
Simulation of the laminar current of aqueous humor, using the software complex FlowVision HPC, has shown a practical absence of aqueous humor flow movement in the upper contour over the phakic lens partly dislocated with luxation into the anterior chamber, during manipulations of all the stages of cataract phacoemulsification with the aphakic IOL implantation under it in the process of bilensectomy, using the original technique, what is verified in the experiment ex vivo.
Agafonov V.V., Barinov E.F., Marshava D.O., Shatskikh A.V.
MORPHO-CLINICAL PARALLELS OF COMPLICATIONS DEVELOPMENT AROSE IN AN EYE AFTER FACT INTRAOCULAR LENS IMPLANTATION [№ 12 ' 2007]

Beliy Yu.A., Tereshchenko A.V., Volodin P.L., Ivanov A.M., Shatskikh A.V.
EXPERIMENTAL RESEARCHES OF PHOTODYNAMIC EFFECTS AT PREVENTION OF COMPLICATIONS AT INTRAOCULAR FOREIGN BODIES IMPACTED IN A BACK POLE OF EYE [№ 12 ' 2007]

Beliy Yu.A., Tereshchenko A.V., Volodin P.L., Shatskikh A.V., Kaplan M.A., Brodskiy R.A., Bandurko L.N.
MORPHOLOGICAL RESEARCH OF PHOTODYNAMIC EFFECTS WITH PHOTOSENSITIZER "PHOTODITAZIN" ON THE STRUCTURE OF CHOROID MELANOMA [№ 12 ' 2007]

Beliy Yu.A., Tereshchenko A.V., Fedotova M.V., Shatskikh A.V.
INTRACAPSULAR PHOTODYNAMIC THERAPY AT THE EXPERIMENT [№ 12 ' 2007]

Zubareva L.N., Ovchinnikova A.V., Shatskikh A.V., Novikov S.V., Perekatova Yu.K.
INFLUENCE OF IMPLANT – CARRIER OF FLUOROURACIL ON THE EARLY STAGE OF REPARATION AFTER ANTIGLAUCOMATOUS OPERATION AT THE EXPERIMENT [№ 12 ' 2007]

Takhchidy Kh.P., Takhchidy E.Kh., Novikov S.V., Shatskikh A.V.
PECULIARITIES OF GLYCOSAMINOGLYCANS INFLUENCE ON THE GROWTH OF FIBROBLASTS AT DEDICATED CULTURE OF CELLS [№ 12 ' 2007]

Shatsky A.V.
TOPOGRAPHY AND MACROMICROSCOPICAL ANATOMY OF BLOOD VESSELS OF OPTIC NERVE INITIAL PIECE [№ 13 ' 2004]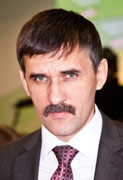 Editor-in-chief
Sergey Aleksandrovich
MIROSHNIKOV