Подача статей





Lapaev S.P.
THE EXPERIENCE OF DEVELOPED COUNTRIES ON THE FORMATION OF THE INNOVATIVE MODEL OF DEVELOPMENT OF THE REGIONS
In the article the comparative analysis of the experience of the developed countries on the formation of the innovative model of development of regions, identify the characteristics of and the main features of the innovative model of development of regions, the conclusion is made about the possibility of using this experience in the Orenburg region.
Key words:
model of innovative development of the regions, the creation of a diversified structure of the economy, the development of a fundamentally new directions of economy, the use of initiative, innovation, dynamism of the young staff, the setting on the use of internal resources of the region.
References:
1. Saxenian, A. Regional Advantage: Culture and Competition in Silicon Valley and Route 128. — 2000. — P. 30.
2. Holbrook A., Sahzar M. Regional Innovation Systems Within A Federation: Do National Policies A fleet All Regionas Equally? Paper Submitted to the Conference "Knowledge and Economic and Social Change: New Challenges to Innovation Studies", Manchester April 7-9. — 2003. — P. 3.
3. Latouche, D. Do'ions make difference? The case of science and technology in Quebec. In "Regioi.; novation Systems — the Role of Governance in a Globalized World. — 1998. — P. 28.
4. European Commission, 2001. Communication from the Commission. The ReLimbugional Dimension of the European Research Area. Brussels: Commission of the European Communities. (COM (2001) 549 final, 2001).
About this article
Author:

Lapaev S.P.



Year:

2012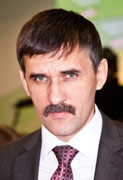 Editor-in-chief
Sergey Aleksandrovich
MIROSHNIKOV