Подача статей





Baturin V.S.
SITUATION AND PROBLEMS OF THE POST-SOVIET EDUCATION IN THE CONTEXT OF ACTIVITY THEORY
This paper examines the specific challenges facing education in the post-soviet area. Also, the author's vision at different levels of activities was given. The role of education in the acquisition of different activity levels observed in the way of the social evolution of each person as an individual, entity, personality. Moreover, the importance of training with the universal human ability to work.
Key words:
worker, activity levels, reflective thinking, individual, entity, person, subject-object paradigm.
References:
1. Nazarbaev, N.A. Keys to the crisis // The Russian newspaper, 2.02.2009 [Electronic resource]. — Access mode: www.rg.ru/2009/02/02/autoritetno.html
2. Anisimov, O.S. Methodological dictionary. — 4 edition, enlarged and revised. — М., 2008. — 414 р.
3. Gegel, G.V.F. Philosophy of mind // Gegel G.V.F. Encyclopedia of Philosophy science in 3-volumes. — М.: Thought, 1977. — V. 3. — 471 р.
4. Ilenkov, Je.V. Philosophy and Culture. — M.: Politizdat, 1991. — 464 р.
5. Encyclopedic Dictionary of Philosophy / Eds: S.S. Averincev, Je.A. Arab-Ogly, L.F. Ilichev and others. — М.: Soviet Encyclopedia, 1989. — 815 р.
6. Anisimov, O.S. Marx: economic ontology, method, world of activities. — M., 2002. — 323 р.
About this article
Author:

Baturin V.S.



Year:

2012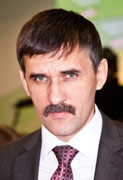 Editor-in-chief
Sergey Aleksandrovich
MIROSHNIKOV