Подача статей





Voronina V.M., Mullov A.V.
THE DEVELOPMENT TRENDS OF THE RUSSIAN BORDER REGIONS OF THE CUSTOMS UNION AND THE PROBLEMS OF GROSS FIXED CAPITAL FORMATION: A QUICK ANALYSIS
The article presents a quick analysis of the dynamics of the most important statistical indicators that characterize the inner potential of the Russian border regions of the Customs Union in comparison with the economic indicators at the national level, and reveals the problems of gross fixed capital formation.
Key words:
quick analysis, dynamics, Russian border regions, gross regional product, fixed capital.
References:
1. Granberg, A.G. The basics of regional economics: a textbook for institutions of higher education. — 2nd edition. — Moscow: State University Higher School of Economics, 2001. — 495 p.
2. The concept of the long-term social and economic development of the Russian Federation for the period up to 2020 // Approved by the order of the government of the Russian Federation of 17.11.2008 # 1662-p
3. Shibayeva, N.A. The strategy of state management of reproduction processes in the integrated development of Russian regions: a monograph / N.A. Shibayeva. — Orel: Orel State Technical University, 2010. — 266 p.
4. The central statistical databank [Electronic resource] // Federal State Statistics Service. — Access mode: http://www.gks.ru
5. Shibayeva, N.A. The management of regional investment processes: a monograph / N.A. Shibayeva. — Moscow: Mashinostroyeniye-1 Publishing House, 2006. — 295 p.
6. The regions of Russia. Social and economic indicators. 2010: Statistical digest / Federal State Statistics Service. — Moscow, 2010. — 996 p.
7. Glukhova, M.V. Gross regional product and practical aspects of its calculation in Russia [Electronic resource] // Interstate Statistical Committee of the CIS. — Fccess mode: http://www.cisstat.com
About this article
Authors:

Voronina V.M., Mullov A.V.



Year:

2011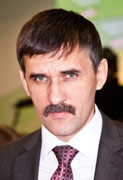 Editor-in-chief
Sergey Aleksandrovich
MIROSHNIKOV