Подача статей





Turlova E.V.
PRAGMALINGUISTIC TRAITS OF TITLES NOMINATION PARADIGM BASED ON THE MANUALS PUBLISHED IN THE ENGLISH LANGUAGE TEACHING CATALOGUES
Basic functions of manuals titles published in the English Language Teaching Catalogues are studied in the paper and general factors influencing these functions are discovered as well; manuals titles are considered as compact texts and linguistic traits are described to characterize the manuals titles from the point of view of their pragmatic potential; the paper gives the manuals titles content.
Key words:
compact text, functional paradigm, advertising discourse, nomination paradigm.
References:
1. Anisimova, E.E. Text Linguistic and Cross-cultural Communication: on the material of creolized texts / E.E. Anisimova. — M.: Academy, 2003. — 128 p.
2. Valgina, N.S. Text Theory / N.S. Valgina. — M.: Logos, 2004. — 280 p.
3. Klimanova, O.A. Authentic learning discourse in context of contemporary linguistic science (on the material of micro texts of learning tasks): Candidate of science thesis / O.A. Klimanova. — Samara, 2001. — 191 p.
4. Kubrykova, E.S. Thoughts on cognitive linguistics at the turn of the century / E.S. Kubrykova // Pilology issues. — 2001. — №1 (7). — P. 77–82.
5. Ponomarenko, E.V. Functional system of English discourse / E.V. Ponomarenko. — M.: MSU, 2004. — 275 p.
6. Taupova, O.I. Communicative-pragmatic variation in compact matter-of-fact textsin modern German language: Author's abstract of philology doctor dissertation / O.I. Taupova. — M., 2005. — 54 p.
About this article
Author:

Turlova E.V.



Year:

2011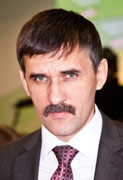 Editor-in-chief
Sergey Aleksandrovich
MIROSHNIKOV