Подача статей





Turlova E.V.
LINGUOPRAGMATIC PARAMETERS OF FUNCTIONING OF MODERN ENGLISH-LANGUAGE EDUCATIONAL DISCOURSE [№ 1 ' 2017]
Contemporary Russian English language teaching (ELT) materials market may be considered full of various manuals written by foreign authors as these manuals and textbooks are characterized by authentic texts, effective supplementary materials, bright illustrations, thematic glossaries, country study commentaries and references. These essential peculiarities let us make a research of English language teaching discourse from the functional point of view of the ELT small-format title texts to differentiate their lingo pragmatic status. The paper represents the research results in differentiation of lingo pragmatic parameters of English language teaching discourse functioning, pointing out its features like functionally based determination of nominative paradigm of small-format ELT title textbooks — expressive, appellative, communicative function of impact, phatic, — structural fusions, precedential character of IT and the Internet. Having analyzed the results of the research we can conclude that lingo pragmatic parameters of ELT discourse functioning is determined by the peculiarities of paradigm of ELT manuals.
Turlova E.V.
PRAGMALINGUISTIC TRAITS OF TITLES NOMINATION PARADIGM BASED ON THE MANUALS PUBLISHED IN THE ENGLISH LANGUAGE TEACHING CATALOGUES [№ 11 ' 2011]
Basic functions of manuals titles published in the English Language Teaching Catalogues are studied in the paper and general factors influencing these functions are discovered as well; manuals titles are considered as compact texts and linguistic traits are described to characterize the manuals titles from the point of view of their pragmatic potential; the paper gives the manuals titles content.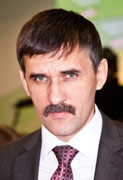 Editor-in-chief
Sergey Aleksandrovich
MIROSHNIKOV