Подача статей





Sobchakova N.M., Kostrova O.A.
THE INTERACTION OF LEXICAL AND GRAMMATICAL CODES IN COMPLEX TEMPORAL SENTENCES IN GERMAN AND ENGLISH
While describing compound temporal sentences (CTS) we usually take into consideration type of connection, meaning of conjunction, positioning of clause, usage of tenses and moods. For compound temporal sentences type of connection is usually defined as syndetic, the meaning of conjunction — as that of simultaneity or diversity, clause position — as variable, choice of tenses is not strictly regulated, indicative mood is believed to be natural. The interaction of all the factors mentioned above is not systematized.
Key words:
taxis, semantically-defined taxis, temporality, compound sentence with temporal clause, taxis temporality, temporal conjunction, lexical and grammatical codes, communicative register.
References:
1.Bagrova, N.D. Temporal factor in human perception. — Leningrad, 1980. — 126 p.
2.Bondarko, A.V. Functional grammar theory: Introduction, Aspect, Tense reference, Taxis. — Moscow, 2003. — 320 p.
3. Jacobson, R.O. Shifters, verb categories and Russian verb // Principles of typological anlysis of diffent languages. — Moscow, 1972. –178 p.
4.Davidson, D. Subjektiv, intersubjektiv, objektiv. Ubersetzt von Joachim Schulte. — Frankfurt am Main, 2004. — 360 p.
5. Leiss, E. Drei Spielarten der Epistemizitat, drei Spielarten der Evidentialitat, drei Spielarten des Wissens // W. Abraham, E. Leiss (Hrsg.) Modalitat. Epistemik und Evidentialitat bei Modalverb, Adverb, Modalpartikel und Modus (Studien zur deutschen Grammatik, Bd. 77). — Tubingen, 2009. — 140 s.
6. Weinrich, H. Textgrammatik der deutschen Sprache. — Mannheim; Leipzig; Wien; Zurich, 1993. — 212 s.
About this article
Authors:

Sobchakova N.M., Kostrova O.A.



Year:

2011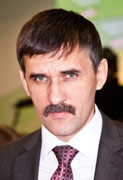 Editor-in-chief
Sergey Aleksandrovich
MIROSHNIKOV