Подача статей





Serebrovskaya T.B.
TUTORING IN THE CONTEXT OF HIGHER EDUCATION MODERNIZATION
The article deals with the development of tutor activity in the context of higher education, the transition to a new generation of educational standards and the relevance of tutor support in connection with the requirements of the FGOS VPO to create individual educational trajectories of students.
Key words:
tutor, tutor support, individualization, individual educational trajectory, open education.
References:
1. Belonovskaya I.D. Methodical guaranteeing IEP in the University Complexes./I.D. Belonovskaya., K.E.Tzvetkova //High Education in Russia. 2009. № 6. P.156-159.
2. Gordon E. Gordon E. Centuries of Tutoring., Izevsk:ERGO,2008.-351 p. ISBN 978-5 98904-037-7
3. Zilina O.U.,Gracheva N.U. Approaches to the standardization of a professional tutor'activity in High school.//The Organization of Tutorship in educational institutions: the contents, rationing, standardization of tutor's activity. Materials of All Russian scientific seminar "The Standards of tutor's activity: The theory and Practice.",Moscow.18-19 May 2009-M АПКИППРО, 2009.-С.55
4. Kovaleva T.M. Tutor's activity in modern High education.[Text]//Manual"Materials of All Russian scientific conference"Tutoring in an open educational space in High schools"./Publishing house "Prometei"MSPU,2008.-114 p
5. Kovaleva T.M. The unpublished interview for the magazine "Expert"from 18.12.2008. http://www.thetutor.ru.
6. The Ministry of the care of public health and social development. The Instruction from 26 August 2010.№761n. About affirmation unified reference book of the qualifications of the positions of leaders, specialists and employees, section "Qualification characteristics"
7. The Ministry of Education and Science of Russian Federation. Federal Educational Standard of High Professional education. http://www.edu.ru/db/portal/spe/3v/220207m.html Annotation
8. Analytical departmental target program "Development of scientific potential of higher education for 2009-2010." http:// v4.udsu.ru/science/adtp_2009_10
About this article
Author:

Serebrovskaya T.B.



Year:

2011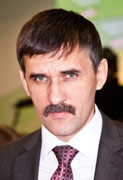 Editor-in-chief
Sergey Aleksandrovich
MIROSHNIKOV