Подача статей





Bykov A.V., Mezhueva L.V., Miroshnikov S.A., Bykova L.A., Tyshchenko V.M.
PROSPECTS OF USE OF CAVITATION HYDROLYSIS OF NON-STARCH POLYSACCHARIDES
During the processing of grain into flour to 25–30% of the total weight of raw materials is waste flour production. Currently the known methods of recycling are not widely used. This article describes how to handle wheat bran, which allows reducing the amount of fiber and improve the indicators of the nutritional value of bran, which makes it possible to use them as a forage component.
Key words:
ultrasound, cavitation, non-starch polysaccharides, hydrolysis, cellulose, cavitation processing, carbohydrate composition, feeding.
References:
1. Afanasyev, VA Technical basis for feed businesses [Text] VA Afanas'ev / Mixed Feed — 2000. — № 5. — S. 14-17.
2. Afanasyev, VA, Orlov AI The system processes feed industry [Text] / VA Afanasyev, AI Eagles. — Voronezh: Voronezh State University, 1999. — 125.
3. Kozhara LS Fundamentals of fodder production [Text] Kozhara LS — M.: Agropromizdat, 1990. — 304 pp.
4. Shevtsov AA Ostrikov AN Lytkina LI, Sukharev AI Enhancing the effectiveness of feed production [Text] / AA Shevtsov, AN Ostrikov, LI Lytkina AI Sukharev. — M.: New Delhi, 2005. — 243.
5. Tsetsinovsky VM, Ptushkina GE Technological equipment of grain processing enterprises [Text] / VM Tsetsinovsky, GE Ptushkina. — M.: Kolos, 1976. — 438.
6. Hill, K., Bamber J. Ultrasound in Medicine. Physical basis of [Text]: Monograph / K. Hill, J. Bamber, — M.: Fizmatlit, 2008. — 542 sec.
7. Horbenko IG Ultrasound in action [Text] / IG Horbenko. — M.: Knowledge, 1965. — 48.
8. Elpiner IE Ultrasound [Text]: physico-chemical and biological action [monograph] / IE Elpiner. — Moscow: Fizmatgiz, 1963. — 420.
About this article
Authors:

Bykov A.V., Mezhueva L.V., Miroshnikov S.A., Bykova L.A., Tyshchenko V.M.



Year:

2011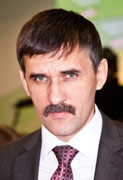 Editor-in-chief
Sergey Aleksandrovich
MIROSHNIKOV