Подача статей





Smirnov A.V.
CONCEPTUAL BASES OF ACMEOLOGICAL STRATEGY OF UNINTERRUPTED EDUCATION SYSTEM DEVELOPMENT
Annotation: The main concepts of development approach of the continuous educational system are reflected in the article. The principle of acmeological approach, focused on the constant development of motivation, creation, acmeological attitude, acmeological individual culture, is revealed.
Key words:
acmeological development approach, cultural creation, priority development of the individual, acmeological attitude.
References:
1. Gorshkova, V. Adult education / V. Gorshkova // Pedagogics. — 2007. — №10. — P. 25-30.
2. Lomakina, T. Diverse as a development concept of constant education / T. Lomakina // Education through life: problems of education / Ed. by N.A. Lobanov, V.N. Skvortsov. — St-Petersburg, Finder, 2003. — P.170-174.
3. Maksimova, V. Akmeological approach in pedagogics / Maksimova. — St-Petersburg, 2007. — 196 p.
4. Skvortsov, V. Some questions concerning college management in constant developing system / V. Skvortsov // Education through life: the problems of formation and development of education; ed. by N.A. Lobanov. — St-Petersburg, Finder, 2003. — P. 206-222.
5. Subetto, A. Problems of the quality of the high education in the field of global and national development / A. Subetto. — St-Petersburg-Kostroma: KSU. — 2000 — 124 p.
About this article
Author:

Smirnov A.V.



Year:

2011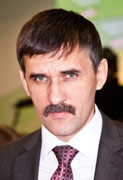 Editor-in-chief
Sergey Aleksandrovich
MIROSHNIKOV