Подача статей





Odenbakh I.A.
INTEGRAL INDEXES OF THE QUALITY OF THE PROCESS "MOBILE EDUCATION"
The integral indexes of quality of mobile education are described with the purpose of achievement of the desired results in higher professional education. Informative accompaniment which will be realized in the process of the use of information technologies in educational space of university is considered. Changes are marked in educational technology in the functions of teacher and student.
Key words:
integral indexes, mobile education, informative accompaniment, educational technologies.
References:
1. Brinev N.S., ChuyanoV R. A academic mobility of students as factor of development of process of internationalization of education [ Electronic resource ] / Access mode: http://www.prof. msu.ru/publ/omsk2/o60.htm. — 20.04.2010 is Tested.
2. Vasil'ev V.I., Krasil'nikov V.V., Plaksiy S.I., Tyagunova T.N. Estimation of quality of activity of educational establishment. M.: Publishing house ICAR. — 2005. 320 p.
3. Bogoslovskiy V.A., Karavaeva E.V., Kovgun [ and other ]. Passing of the Russian institutes of higher to the level system of training of personnels in accordance with federal state educational standards: normatively are methodical aspects. M.: University book. — 2010. 248 p. ISBN 978 — 5 — 91304 — 107 — 4.
4. Anokhin P.K. Theory of the functional system // Successes of physiological sciences. — 1970. — P. 19 — 54.
5. Gevorkyan E.N., Motova G.N. The Bolonskiy process and collaboration in area of providing of quality of education: experience of Russian Federation is // Questions of education. — 2005. — №4.
6. Materials were used from a site: http://geducation.hotbox.ru/03/htm.
About this article
Author:

Odenbah I.A.



Year:

2011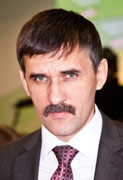 Editor-in-chief
Sergey Aleksandrovich
MIROSHNIKOV