Подача статей





Mosienko L.V.
RESEARCH OF YOUTH SUBCULTURE: AXIOLOGICAL ASPECT
Annotation: In this article was exposed the notion " youth subculture", analyzed the approach to the researching of youth subcultures: functional, gender, racial, system-dynamical, synergetic, etc. The author presents the axiological approach to the research of youth subcultures as one of the most principal approaches, that determines the values of the representatives of these communities.
Key words:
The definition of a notion " youth subculture", approaches to scientific research of the youth subculture, axiological approach, values of youth subcultures.
References:
1. Urgent problems of youth subculture: Collection of articles/ Edited by O.V.Krasnova. — M.: printed by Moscow psychological-social institute, 2008. — P.8.
2. Davydov U.N., Rodnyanskaya I.B. Sociology of counterculture. — M.: Science, 1980. — P.175.
3. Kirjakova, A.V. The theory of orientation of the person in the world of values. The monography. — Orenburg: OSPI, 1996.
5. Kolesin, I.D. The approaches to the examination of the sociocultural rpocesses// Sociological research. — 1999. — №1. — P.130.
6. Levikova, S.I. Youth's culture / S.I.Levikova. — 3d publication — М.: University's book, 2007. — P.3.
7. Youth subcultures / Islamshina Т.G., Maksimova О.А., Salagaev А.L., Sergeev S.А., Hamzina G.R., Tseytlin R.S. — Kazan: PH Kazan State Technological University, 1997. — 116 p.
8. Sokolov, K.B. Subcultures, ethnic groups and art: the conception of sociocultural stratification // The Bulletin of Russian humanity research fund. — М., 1997. — №1. — P.135.
9. Sokolov, M. Subcultures measuring of social motions: cognitive approach// Youth's motions and subcultures of St. Petersburg/ edited by V.V. Kostyushev. — St. Petersburg: Norm, 1999. — P. 9-23.
10. Shabanov, L.V. Social-psychological characteristics of youth's subcultures: social protest or forced becoming a marginal person. — Tomsk: Tomsk State University, 2005. — 399 p.
11. Shakurov, R.H. Emotions, personality, activity: Mechanisms of psychodynamics. — Kazan, 2001. — P.30.
12. Shchepanskaya, Т.B. System: texts and The traditions of a subculture / Т.B. Shchepanskaya. — М.: Publishing House, 2004. — 286 p.
About this article
Author:

Mosienko L.V.



Year:

2011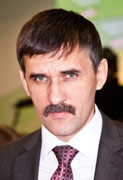 Editor-in-chief
Sergey Aleksandrovich
MIROSHNIKOV