Подача статей





Boldyrev A.V., Thorzhevskaya L.V., Boldyreva T.V.
SEMANTIC-VITAL ORIENTATIONS IN THE STRUCTURE OF PHENOMENON OF PERSONAL PROFESSIONAL DESTRUCTIONS OF OFFICERS OF CRIMINAL- EXECUTIVE SYSTEM
In article the parity and interrelation of concepts professional деструкции the person and a syndrome of emotional burning out is considered. On the basis of empirical researches the role of distortion of system of values and process of its formation at employees of penitentiary system is defined.
Key words:
professional deformation of the person, a syndrome of emotional burning out, system of values, axiological potential of the person.
References:
1. Kirjakova A.V. Teorija of orientation of the person in the world of values [Text] / A.V. Kirjakova. — Orenburg: ОGU, 2000. — 188 w.
2. Kozhevnikov T.S. Professional deformation of employees of correctional facilities and a measure of its preventive maintenance / Kozhevnikov T.S. — Kirov, 2007. — 55 w.
3. Krapivina O.V Emotional burning out as the form of professional deformation at penitentiary employees: the dissertation on competition of a scientific degree of the candidate of psychological sciences. Tambov, 2004. — 200 w.
4. Preventive maintenance of deviating behavior and conditions of employees of criminally-executive system: the Monography. — M.: NII FSIN of Russia/ — 2008 — 251 w.
About this article
Authors:

Boldyreva T.A., Boldyrev A.V., Thorzhevskaya L.V.



Year:

2011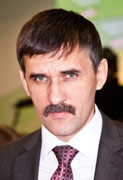 Editor-in-chief
Sergey Aleksandrovich
MIROSHNIKOV