Подача статей





Kiryakova A.V.
VALUE REFERENCE POINTS OF UNIVERSITY EDUCATION
The axiological paradigm of pedagogics as a strategic orientation of the development of higher education is presented in the article. The education axiology is the perspective scientific trend, which allows finding a resource of improvement of education quality. The basic resource of improvement of education quality, in the axiology context, is the personal potential of the university student and the teacher.
Key words:
axiological approach, axiological orientations, axiological potential of the person.
References:
1. Asmolov A.G.Cultural-Historical Psychology and Designing of Leaders. — М, 1996.
2. Vyzhlecov G.P. Aksiology of Culture. — SPb.: Izd-vo Sankt-Peterburgskogo un-ta, 1996.
3. Riddings B. University in Ruins — М: Izdatel'skij dom GU VSHE, 2010.
4. Teyar de Sharden P. Phenomenon of the Person. М, 1988.
5. Irving J. A. Science and Values. Toronto. 1952.Joshi H.M. (Ed.) Recent Approaches to Axiology. Bharativa — Vidya — Prakashan., 1991.
6. Maslow A. (Ed.) New Knowledge of Human Values. N.-Y., 1959.
7. Maslow A. Self-actualizing and Beyond. In: Challengesof Humanistic Psychology. N.Y. 1967.
8. Perry R. B. General Theory of Value. Its meaning and basic principles, construed in terms of interest. — Cambridge, Mass., 1950 (1 ed. — 1926).
9. Rogers C. Freedom to learn for 80's. Columbus-Toronto-London-Sydney Ch. E. Merrill. Publ. Company A Bell & Howell Company 1983.
About this article
Author:

Kiryakova A.V.



Year:

2011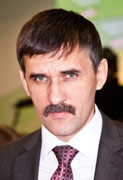 Editor-in-chief
Sergey Aleksandrovich
MIROSHNIKOV