Подача статей





Shevchenko A.A.
BALANCING "REGION-ENTERPRISE" SYSTEM OF MANAGEMENT DECISIONS
In the present article stages of forming for management decisions at all levels of management are presented. Features of management decisions acceptance at the regional level are allocated. The special attention is given to accountancy for decisions of the coordination of its purposes with the municipal unions in the conditions of economy modernization. The mathematical model for object in view achievement is presented. Related materials can be used in activity of control at different levels in educational process.
References:
1. Aivazian, S.A. Modeling the mechanism of formation of expert opinion in choosing solutions. Economics and Mathematical Methods / S.A. Ayvazian. T. 30, vol. 2. 1994.
2. Drucker, P.F. Effective management. Economic problems and optimal solutions, Ed. Vol. M. Kotelnikov. / P.F. Drucker. M.: FAIR-PRESS, 1998. 288 p.
3. Larychev, O.I. Theory and methods of decision-making, as well as Chronicle of Events in Neverland. / O.I. Larychev. M.: Logos, 2003. 392 p.
4. Terekhova, S.A. Simulation modeling of the strategic management of socio-economic complex of the region / S.A. Terekhov, A.G. Ivashko // Vestnik of Tyumen University. 2005. № 1. P. 80–83.
About this article
Author:

Shevchenko A.A.



Year:

2010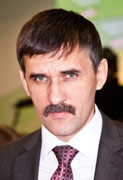 Editor-in-chief
Sergey Aleksandrovich
MIROSHNIKOV